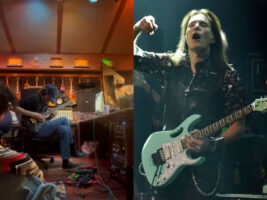 Jacob Collier shares behind-the-scenes clips with Steve Vai and Willow
English musician Jacob Collier has shared a new behind-the-scenes clip from the making of his upcoming album Djesse, Vol 4 featuring Steve Vai and Willow.
READ MORE: Extreme's new album Six is a homage to Van Halen: "I felt some responsibility to keep guitar playing alive"
The clip appears to be from the sessions for Collier's forthcoming Djesse, Vol 4. Vai and Collier first collaborated on the 2019 track Do You Feel Love from Djesse, Vol 2 album. 22-year-old pop-punk star Willow also makes a brief cameo screaming the words "I don't wanna waste my time" into a microphone, and the Jason Max Ferdinand Singers can be seen adding a vocal crescendo to another track.
View this post on Instagram
A post shared by Jacob Collier (@jacobcollier)
No release date has been announced for Collier's Djesse, Vol 4 as of the time of writing. The tracklist and guest features on the album are also unknown, but the record should be the final installation of Collier's Djesse series of albums, which began in 2018 and features a total of 50 songs spread across four albums.
The series has earned Collier a Grammy with each instalment, with the most recent being awarded for He Won't Hold You from Djesse Vol. 3 at the 2021 ceremony.
Collier also released his first live album, Piano Ballads (Live From The Djesse World Tour 2022) in September last year.
The post Jacob Collier shares behind-the-scenes clips with Steve Vai and Willow appeared first on Guitar.com | All Things Guitar.
Source: www.guitar-bass.net