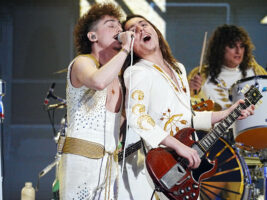 Jake Kiszka says he's "proud" and "in awe" of his brother Josh for coming out as a member of the LGBTQ+ community
Last week, Greta Van Fleet frontman Josh Kiszka came out as a member of the LGBTQ+ community on Instagram, revealing that he's been in a same-sex relationship with his partner for the past eight years.
His decision to reveal his sexuality was spurred on by recent events in his home state of Tennessee, where conservative legislators attempted to pass a bill which would ban drag shows on public property where minors could be present [per Billboard].
READ MORE: Signed document that ended The Beatles expected to sell for $500,000
Earlier this month, a federal judge ruled that the bill violated the First Amendment, and was an "unconstitutional restriction of freedom of speech".
In his Instagram post, Josh Kiszka said: "Where I've settled a home in Tennessee, legislators are proposing bills that threaten the freedom of love. It's imperative that I speak my truth for not only myself, but in hopes to change hearts, minds, and laws in Tennessee and beyond.
"These issues are especially close to my heart as I've been in a loving, same-sex relationship with my partner for the past 8 years. Those close to me are well aware, but it's important to me to share publicly."
View this post on Instagram
A post shared by Josh M. Kiszka (@joshmkiszka)
Now, in a new interview with Guitar.com, guitarist and GVF band member Jake Kiszka has spoken in support of his brother.
"I'm proud of him, but I think more so I'm in awe – of his bravery and his compassion, and the amount of power that he holds.
"It's one thing explaining your sexual orientation to someone close or your family, but when you go to announce something like that to millions, and the world, you're sort of standing naked before God and all of his mighty men saying, 'Here I am – take it or leave it!'
"So I think it's great, I think it's time, and I think he was ready. But it does say something about the music we're writing, and where he's coming from – it's a beautiful thing."
Elsewhere in his Instagram post, Josh Kiszka wrote: "The LGBTQ+ community is a cultural pillar, constantly championing positivity and acceptance through art, music, literature, film, and most importantly, legislation.
"The greatest mortal gift of all is our capacity to love and as we travel through time, may our greater understanding of the matter around and within us teach us to love ever deeper."
The post Jake Kiszka says he's "proud" and "in awe" of his brother Josh for coming out as a member of the LGBTQ+ community appeared first on Guitar.com | All Things Guitar.
Source: www.guitar-bass.net