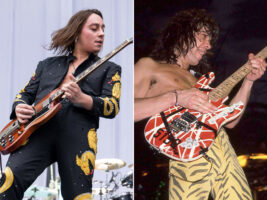 Jake Kizska isn't a fan of shred guitar, but says "Eddie Van Halen is an outlier"
Greta Van Fleet guitarist Jake Kiszka has claimed that he is not a fan of shred guitar due to a lack of "soul and dynamics" in the style.
READ MORE: "I didn't think I was gonna get the gig because I didn't sound anything like Yngwie": Steve Vai on replacing Yngwie Malmsteen in Alcatrazz
In a new issue of the Guitar Player magazine, Kiszka opens up about how he developed his playing style as well as his musical influences over the years.
Asked for his opinion on the term 'shred', the guitarist replies: "I was never a big fan of shredding. It didn't really interest me because I didn't hear the soul and dynamics of an earlier style of guitar playing."
"When Jimi Hendrix played guitar, you could feel the soul coming out of his body. That moment right there probably defined my direction and approach," he explained. "For me, shred music didn't achieve that sort of thing."
The interviewer then pointed out that one would probably not put Eddie Van Halen in that category, a sentiment Kiszka concurs with, saying: Eddie Van Halen is an outlier. I like his approach – he inspired and created a type of music, but there was enough nuance in what he was doing that you could still hear a human element."
"Nowadays, the amps are so cranked and there's so much gain and distortion. It's less like painting and more like digital art. It's like AI versus human art."
In other news, Kiszka has leant his support to his brother Josh, who has come out as a member of the LGBTQ+ community in recent weeks.
The Greta Van Fleet frontman revealed last month that he's been in a same-sex relationship with his partner for the past eight years.
"I'm proud of him, but I think more so I'm in awe – of his bravery and his compassion, and the amount of power that he holds," Kiszka tells Guitar.com in a forthcoming interview.
The post Jake Kizska isn't a fan of shred guitar, but says "Eddie Van Halen is an outlier" appeared first on Guitar.com | All Things Guitar.
Source: www.guitar-bass.net