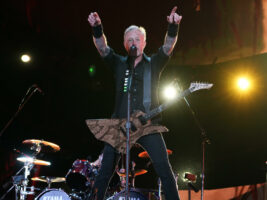 James Hetfield visits injured Ukrainian soldiers in hospital 
Metallica's James Hetfield has visited injured Ukrainian soldiers in a hospital at Vail, Colorado.
READ MORE: James Hetfield says his vocals have improved on the new Metallica album: "It goes to show that we put a lot of time and care into what we do"
The band released their latest album, 72 Seasons, last month (April) and have been on the road in support of the record for their gigantic M72 world tour.
But despite their busy schedule, vocalist and guitarist Hetfield took some time to visit wounded Ukrainian soldiers who were in hospital amid the ongoing war between Ukraine and Russia.
Vail Daily reported of the visit on 18 May, and stated that Roman Denysiuk, a Ukrainian soldier, was brought to the hospital for medical treatment through the assistance of locally-founded non profit LimbsFor Liberty.
While he was recovering from surgery, Kelli Rohrig (co-founder of Limbs For Liberty), paid him a visit, and as she got out of her car, a man had politely said "Good morning" to her. The man, of course, was Hetfield, who then paid a visit to the soldier following Rohrig's request.
Hetfield also met another Ukrainian man in the hospital named Igor Voinyi, and wished them both good luck and told them to get better soon, according to the Vail Daily report.
Metallica @Metallica frontman James Hetfield visits wounded Ukrainian soldiers Roman Denysiuk and Ihor Voynyi at Vail Health Hospital in the US.
When you've been a Metallica fan since childhood!
: Kelli Rohrig pic.twitter.com/lePpiWy90u
— Toronto Television / Телебачення Торонто (@tvtoront) May 22, 2023
The two men shared that Metallica are very popular in Ukraine, and said that "Growing up, we all listened to them and dreamed of seeing them."
"It was unexpected," Voinyi added (translated by Olga Milinan). "I didn't even believe it at the first moment that it was him. It was very short, but it was a very warm meeting. It would be nice to meet him at a campfire and have a drink, instead of the hospital."
Hetfield also reportedly left a sticky note on Rohrig's car saying, "You made my day."
Find out more about Metallica's M72 world tour here.
The post James Hetfield visits injured Ukrainian soldiers in hospital  appeared first on Guitar.com | All Things Guitar.
Source: www.guitar-bass.net