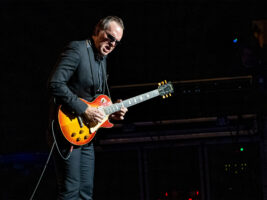 Joe Bonamassa teases signature Fender '48 dual professional amp
Joe Bonamassa has teased his long-awaited Fender '48 Dual Professional JB Edition amp is coming soon.
READ MORE: Richie Sambora in discussions to rejoin Bon Jovi
In a new Instagram post shared on 14 February, Bonamassa showed off his Fender '48 Dual Professional JB Edition amp. He did not detail the amp's specifications, but it was previously described as a 26-watt 2×10 combo amp with period-correct specs and signature updates. It appears to be available in Tweed with a brown grille cloth, plus the classic split grille design and vertical chrome strip.
"After 5 years in development. The 1948 Fender Dual Professional JB edition is about to be released!! Coming in hot! All dials set for scorch," Bonamassa wrote in his post.
View this post on Instagram
A post shared by Joe Bonamassa (@joebonamassa)
The amp does reportedly feature an all-new speaker design from Celestion as opposed to the original Jensen PM10-C Alnico speakers featured in the base Fender '48 dual amps, as detailed by Bonamassa in previous videos featuring the amp. "Now they are 35-watt, Joe B-branded Celestion ceramic speakers which I found sound good in the amp," he said at the time.
"I prefer them to the Alnicos, but that's just my preference – I'm just one man."
Bonamassa recently announced a live concert film and album featuring material from his latest album titled Tales of Time, set to be released on both CD/DVD, vinyl and all digital formats on 14 April 2023. The concert was filmed at the Red Rocks Amphitheatre in Colorado, and was produced by long-time collaborator and producer Kevin Shirley, whose previous work includes Led Zeppelin, Iron Maiden and Journey.
Bonamassa said of the concert film, "This live show represents our most progressive and largest production to date, focusing on my most ambitious studio album to date, Time Clocks," adding that the film captures a "special night".
The post Joe Bonamassa teases signature Fender '48 dual professional amp appeared first on Guitar.com | All Things Guitar.
Source: www.guitar-bass.net