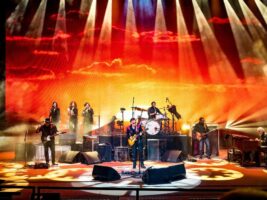 Joe Bonamassa to release performance from Red Rocks Amphitheatre
Joe Bonamassa has announced the release of Tales of Time, a live concert film and album featuring material from his latest album, that was filmed at the Red Rocks Amphitheatre in Colorado.
READ MORE: Victory Amps unveil the newest Sheriff amplifiers
The performance was recorded in August 2022, and will be released worldwide on both CD/DVD, vinyl and all digital formats on 14 April 2023.
The original album was released back in October 2021, however, the live rendition is hoped to bring a new spin, offering a visual backdrop which is hoped to highlight the music.
The live album was produced by long-time collaborator and producer Kevin Shirley, whose previous work includes Led Zeppelin, Iron Maiden and Journey.
"This live show represents our most progressive and largest production to date, focusing on my most ambitious studio album to date, Time Clocks," says the guitarist. "The iconic Kevin Shirley once again has produced both wonderful music and a wonderful visual. My band was a force of nature on this show and it truly was a special night."
In more Joe Bonamassa news, he has been criticised by how he responds to online haters.
Youtuber Ola Englund has shared his thoughts in an episode of Sunday With Ola vlog, calling Bonamassa boastful comments as "definitely sad".
"And I think that Joe understood this, because the day after he deleted his comment, and he came to the conclusion that he doesn't belong on social media," he continued.
He explained that the real problem with the interaction was that Bonamassa "took the bait" when he shouldn't have responded at all. "And he responded in a very non-classy way," Englund continued. "And also, he puts a little shade on social media people with his post, saying that we are destroying our lives. That's up to you, man. If you can't handle social media, you shouldn't do social media."
The post Joe Bonamassa to release performance from Red Rocks Amphitheatre appeared first on Guitar.com | All Things Guitar.
Source: www.guitar-bass.net