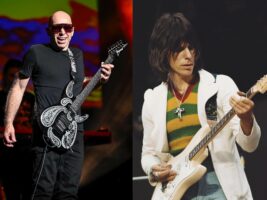 Joe Satriani: "Jeff Beck just got better and better"
Guitar virtuoso Joe Satriani has spoken out about the legacy of late guitarist Jeff Beck, who sadly passed away on 11 January.
READ MORE: Ritchie Blackmore recalls his first time meeting Jeff Beck: "I couldn't believe how incredible he was"
In an interview on the Rolling Stones Music Now podcast, Satriani, who replayed Beck on Mick Jagger's 1988 solo tour, shared his memories about the late guitarist and what he believes Beck's legacy will be.
"Over the decades, the thing is, Beck just got better and better. I don't want to say he refined what he did. He just added like so much stuff to what he could do on the guitar. Technically speaking, what he did with the Stratocaster was really interesting," says Satriani. "Hendrix definitely sort of reinvented what you could possibly do with the Stratocaster, and Beck was right there with him."
"Beck just really focused in on picking with his fingers, using the guitar in the arrangements in a sort of a quasi-melodic, riff-meets-rhythm way accompanying the singer. Jimi sang himself, so it was a slightly different approach, but you could see [the] "Hey we're coming from the same place" in what they were trying to do with the Strat."
He continued by adding "He sought out musicians who were on the cutting edge of what he thought was great new music. And he tried to incorporate that into how he saw the electric guitar, and how it would fit into this new idea of combining rock and blues and jazz. At the time it was fusion. But he never lost himself in it. No matter who he played with, he retained that Jeff Beck attitude."
Satriani was not the only guitarist to pay homage to Beck, as Jimmy Page, David Gilmour, Ronnie Wood, Jack White, John Mayer and even Paul McCartney shared their memories and thoughts about the legacy that has been left behind.
You can listen to the full Rolling Stone's Music Now podcast episode, on Apple Podcasts or Spotify.
The post Joe Satriani: "Jeff Beck just got better and better" appeared first on Guitar.com | All Things Guitar.
Source: www.guitar-bass.net