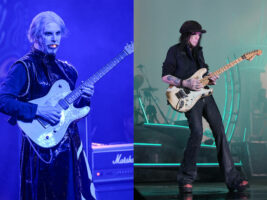 John 5 reveals Mick Mars sent text of encouragement as he replaced him as Mötley Crüe guitarist
John 5 has revealed that Mick Mars sent him a supportive text message as he took on his spot as Mötley Crüe's guitarist following his departure in ill health.
READ MORE: Nikki Sixx says Mick Mars is "a little bit confused" and that Mötley Crüe have always been "really supportive"
Mars stepped back from the band in October last year, and was officially replaced by the Rob Zombie guitarist not long after. His addition to the band made a lot of sense, given that he already had a musical history with the group.
John 5 has writing credits for a handful of the bands hits (including three original songs on the band's The Dirt film soundtrack, and on Meat Loaf song The Monster Is Loose.) Nikki Sixx regarded him as an "insane player" who "checks all the boxes" in response to a fan on Twitter, too.
He checks all the boxes. He's a insane player. Has respect for our music, is funny as fuck and has history with us and we've written some pretty big hits together.
— (@NikkiSixx) October 29, 2022
In a new interview with SiriusXM's Eddie Trunk, John 5 discussed his relationship with Mars and revealed his encouraging message as he joined the line up. Confirming that the pair "talk all the time", he said (via Loudwire): "When I was announced as the guitar player, he was one of the very first texts that I got," John 5 reflected.
"He said, 'You're going to kill it.' It's good. It's not like it's some stranger coming in. We have a great respect for each other."
Back in April however, Mars sued the band for conspiring to fire him. The guitarist said, "Those guys have been hammering on me since '87, trying to replace me."
He continued, "They haven't been able to do that, because I'm the guitar player. I helped form this band. It's my name I came up with [the Mötley Crüe moniker], my ideas, my money that I had from a backer to start this band. It wouldn't have gone anywhere."
The band responded via their attorney who stated, "After the last tour, Mick publicly resigned from Mötley Crüe. Despite the fact that the band did not owe Mick anything — and with Mick owing the band millions in advances that he did not pay back — the band offered Mick a generous compensation package to honour his career with the band. Manipulated by his manager and lawyer, Mick refused and chose to file this ugly public lawsuit."
Mötley Crüe are currently on a world tour. Find out more at Motley.com.
The post John 5 reveals Mick Mars sent text of encouragement as he replaced him as Mötley Crüe guitarist appeared first on Guitar.com | All Things Guitar.
Source: www.guitar-bass.net