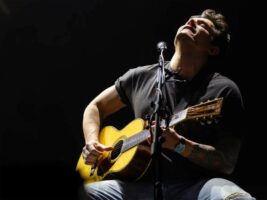 John Mayer is using three pedalboards on his tour, because why not?
Guitar maestro John Mayer is currently on his solo acoustic tour of North America and has so far provided some very enjoyable guitar content, such as his double-neck Martin, a Martin Custom Shop 00-28K 14-Fret Flamed Koa, among many others. Therefore you may not be that shocked to know that he has brought three pedalboards along with him for the road.
READ MORE: Alice Cooper remembers showing Pretties For You to Frank Zappa: "I'm signing you because I don't get it.'"
As revealed by the John Mayer Gear Instagram page, they spotted one pedal board specifically used for seated acoustic playing, one for acoustic "standing" and one for electric "standing".
Firstly, the seated acoustic board. It features not one, but two Strymong pedals, as well as two Boss TU tuner pedals (one of which might be used as a splitter). Next to it, according to JohnMayerGear, he had a Hammond XPR-130G MIDI Sound Pedalboard, which would allow him to create bass lines with his feet. Very impressive indeed.
It doesn't stop there, as next up you have the "standing" acoustic pedalboard, which has a very similar set up to the "seated" version, but drops the Cloudburst and includes a Providence Chrono DLY-4 delay which Mayer has used repeatedly in the past.
In between both the acoustic board, he had a Moog EP-3 pedal, which is most likely related to some vocal signal chain effect.
Lastly, the electric board. This is full of some of the classic pedals commonly used by Mayer such as the now notorious Klon Centaur, Tube Screamer TS10, and Way Huge Aqua-Puss delay.
You can see the full set up below:
View this post on Instagram
A post shared by John Mayer Gear (@johnmayergear)
Mayer still has a lot of his solo tour to go, so stay tuned for more exciting John Mayer gear updates.
The post John Mayer is using three pedalboards on his tour, because why not? appeared first on Guitar.com | All Things Guitar.
Source: www.guitar-bass.net