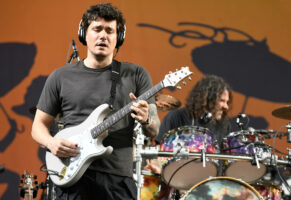 John Mayer's Klon Centaur is up for sale on Reverb
A Klon Centaur pedal previously owned by John Mayer – or at least by his band – is now available to buy on Reverb.
READ MORE: John Mayer reveals 20th Anniversary Martin signature models – but they're not cheap
The legendary overdrive pedal is part of a personal collection of over 100 items that's being sold by Chris King Robinson, the founder of the boutique pedal company Pedal Pawn. Mayer has been a long-time user of Bill Finnegan's most famous invention – even using a mysterious 'blacked out' version on his touring pedalboards this year.
Also on sale from King Robinson's collection are  a series of artist signature Fuzz Faces, an original Marshall Blues Breaker and a handful of original analog Boss stompboxes. Alongside Mayer's Klon Centaur, it also features gear that was owned by Eric Johnson and Thin Lizzy's Gary Moore.
John Mayer's Klon Centaur. Credit: Reverb
In 2019, Guitar.com named the Centaur one of the greatest effect pedals. "The Klon Centaur is either the greatest, most useful overdrive ever made, or the worst example of guitarists losing all sense of perspective about how much good tone should cost."
Last year, Mayer shared how he set his Klon with a lucky fan whilst on tour in Canada, after the fan brought their own to the gig. Not only did Mayer sign the pedal,  but he also took it back alongside his own rig, where he then dialled in the knobs to the same position and labelled the presets – allowing for the fan to precisely replicate the musician's signature style.
The Centaur was in production between 1994 and 2008 and second-hand units now fetch particularly high prices on Reverb, sometimes even as high as $4,000. In early 2021, JHS' Josh Scott sold what he claimed was the first Klon Centaur for an eye-watering $500,000. The pedal was reportedly "bought" by Music Is Win's Tyler Larson.
 
The post John Mayer's Klon Centaur is up for sale on Reverb appeared first on Guitar.com | All Things Guitar.
Source: www.guitar-bass.net