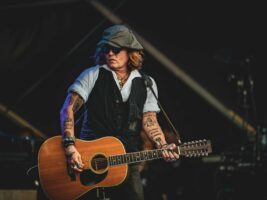 Johnny Depp turns up at antique shop by helicopter to buy guitars
A regular day at Hemswell Antique Centre in Hemswell Cliff, UK turned into a spectacle when Johnny Depp showed up unannounced via helicopter.
READ MORE: Matt Bellamy showcases new S-type Manson guitar onstage with Muse
The actor's visit on 3 March, which had been arranged by the store and the Hollywood giant Pinewood Studios, came as a surprise to the staff as they had only been briefed that a special guest would be coming, LadBible reported. Depp stayed for several hours, perusing guitars and eventually purchasing a desk chair, three guitars, paint sets, easels, a few pictures, and posters.
View this post on Instagram
A post shared by Hemswell Antique Centres (@hemswellantiquecentres)
"He chose a vase with a skull on it. Guitars obviously. He was very friendly with, best friends with Jeff Beck, he sat and played a few tunes on this guitar I think just for old times' sake really and then decided to buy three of the guitars that were there," store owner Robert Miller told the outlet, adding that the actor had also talked about Beck, his late collaborative partner on the 2022 album 18. The store also shared a series of pictures featuring Depp testing guitars in the centre, which can be seen below.
Depp previously showed off a one-of-a-kind 'Shipwreck' guitar while on tour with Beck last year. The guitar, which was designed and custom-made for him by luthier David Petillo, features a two-century-old basswood body paired with a fully functional brass compass that dates back to 1899.
The post Johnny Depp turns up at antique shop by helicopter to buy guitars appeared first on Guitar.com | All Things Guitar.
Source: www.guitar-bass.net