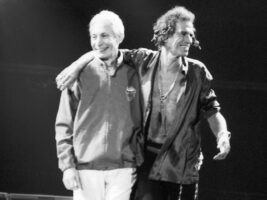 Keith Richards pens touching tribute to Charlie Watts on the second anniversary of the drummer's death
Keith Richards has paid tribute to his late friend and Rolling Stones bandmate Charlie Watts in a new Instagram post, two years after Watts died at the age of 80.
Sharing a single picture of himself with his arm round Watts, Richards writes: "Charlie Watts was my bed. I could lay on there, and I know that not only would I have a good sleep, but I'd wake up and it'd still be rocking. Miss you Charlie."
View this post on Instagram
A post shared by Keith Richards (@officialkeef)
Widely recognised as one of rock music's greatest drummers, Charlie Watts' death in 2021 drew a widespread outpouring of grief from the music community, with the likes of Paul McCartney, Ringo Starr, Bryan Adams and Nile Rodgers among the high-profile names to pen tributes.
READ MORE: 6 facts about the Rolling Stones' gear you probably didn't know
In an interview following Watts' death, Rolling Stones frontman Mick Jagger highlighted how the drummer held the band together, calling him the "rock the rest of it was built around".
"The thing he brought was this beautiful sense of swing and swerve that most bands wish they could have," Jagger said. "He was always there, always played beautifully and was always willing to discuss what to do about it – how he could make it better."
The Rolling Stones opted to press on with their No Filter US tour at the time following Charlie Watts' death, inviting drummer Steve Jordan to take position behind the kit.
In other Stones news, fans recently spotted a cryptic ad in a local London newspaper seemingly hinting the coming of a brand-new album by the rock titans.
The ad – which presented itself as for a company called Hackney Diamonds – was littered with Stones references, notably to a number of key songs and to the year of the band's formation, 1962.
And elsewhere, producer Steve Lillywhite recently recalled working with the Stones on their 1986 album Dirty Work, amid a feud between Mick Jagger and Keith Richards.
He said that despite the pair's tumultuous relationship at the time, Jagger and Richards "used up 1,000 cassettes of ridiculous jamming".
The post Keith Richards pens touching tribute to Charlie Watts on the second anniversary of the drummer's death appeared first on Guitar.com | All Things Guitar.
Source: www.guitar-bass.net