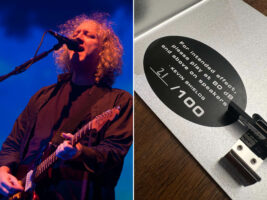 Kevin Shields hid new music inside his new signature pedal – and you can listen to it here
You may have caught the news that Kevin Shields of My Bloody Valentine released his first ever piece of signature gear earlier this week (13 June) with the Fender Shields Blender Pedal. Well, it turns out he's hidden a little surprise in some of the units.
READ MORE: Gibson UK Demo Shop launched on Reverb.com listing one-of-a-kind models
Shields has surprised buyers with some brand-new music, which was secretly released inside 100 of the new Limited Edition Shields Blender Pedals sold on Reverb.com.
The music, an instrumental track, is stored on a flash drive hidden inside the pedal. Those who grabbed one from Reverb reportedly discovered it when taking it apart to inspect the circuitry.
Some of those who ended up with magic USB sticks have shared the news on The Gear Page. Pictures show a sticker which reads, "For intended effect, please play at 80dB and above on speakers," with a smiley face at the end. Each has also been marked with a number out of 100.
Naturally, it hasn't taken long for one of the lucky recipients of the new music to upload it to YouTube; you can check out the expansive, enveloping instrumental below:
The Fender Shields Blender Pedal is modelled on the original Fender Blender, an octave fuzz unit introduced in 1968. It hosts an octave-up push button to toggle the original octave-up fuzz voice on and off.
Other controls such as two footswitchable channels also feature, which can be toggled between via the Octave footswitch. Channel One blends the fuzz voice with the original clean signal, while Channel Two removes the clean signal entirely and instead blends the fuzz with a monophonic sub octave fuzz.
It was limited to just 700 units worldwide, with a price of £449. You can check it out in the video below:
"Throughout the late '80s and '90s, Shields awakened iconic sonic walls of fuzz like the world had never heard as he defined the tone of alternative rock, inspiring the 'shoegaze' genre and beyond, most notably with his band's seminal record Loveless, an album that catapulted My Bloody Valentine into a commercial success," Fender said at the time of release.
"The pedal represents the revival of a classic Fender fuzz circuit from the 1970s and serves as the new penchant for the effects pedal category, which has been reimagined through a collaborative four-year development process with Kevin Shields."
The post Kevin Shields hid new music inside his new signature pedal – and you can listen to it here appeared first on Guitar.com | All Things Guitar.
Source: www.guitar-bass.net