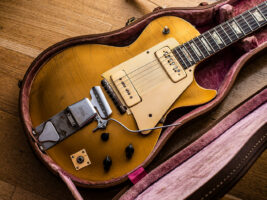 Les Paul's number one guitar set for auction at Christie's
Gibson Les Pauls don't come much more iconic than this. The first Les Paul owned and approved – and subsequently heavily modified – by Les Paul himself will be up for grabs as part of Christie's Exceptional Sale in New York on 13 October 2021.
READ MORE: Are Gibson's new Murphy Lab Les Pauls as good as it gets? 
The 1952 Goldtop, which made its television debut on the Omnibus show in October 1953, is being sold by Les Paul's audio-engineer son Gene and Tom Doyle, the guitar-builder, engineer and producer who worked alongside Les for over 45 years.
"My father spent a lifetime chasing his dream," said Gene Paul. "It took almost three decades from his first experiments to finally receiving this Gibson Les Paul Goldtop in 1952.
"To Les, getting this guitar officially made by Gibson was his crowning achievement. This is the one that started it all for dad… and is probably the most historically significant, iconic, valuable, and culturally important guitar that the world has ever seen.
"In my opinion, this instrument belongs in the Smithsonian next to Neil Armstrong's boot from the Moon landing. It is a national treasure."
Les Paul replaced the factory tailpiece with a modified Kauffman Vibrola. Image: Eleanor Jane
Kerry Keane, Christie's consultant and Musical Instruments Specialist, remarked: "In any creation narrative there are always multiple protagonists, but the name Les Paul ranks at the pinnacle when discussing the electric guitar. His development of multitrack recording, and audio effects like delay, echo, and reverb all profoundly influenced how music is reproduced and heard.
"Yet his lifelong search and development in perfecting the electric guitar would forever change the instrument. That transformation is responsible for the successful careers for generations of guitarists that performed on the Les Paul guitar. This guitar physically embodies his endless passion that produced the most iconic musical instrument in popular culture."
The earliest reference to a Les Paul model in Gibson's shipping ledgers notes that a pair of Les Paul models were shipped to Paul himself on 20 May 1952. The second model had no fingerboard binding and was given to Mary Ford. Image: Eleanor Jane
A restless innovator, Les Paul received this instrument in the spring of 1952 but it soon bore little resemblance to the production Goldtops that would bear his name.
The 'wrap-under' trapeze tailpiece was swapped for a modified Kauffman Vibrola, while the neck pickup was swapped out for a unit Les created using the skeleton of a DeArmond Dynasonic inside a blank soapbar cover that he cut to fit. The guidelines he drew to drill the polepiece holes are still visible on the pickup cover today.
Les Paul created a new neck pickup using parts from a DeArmond Dynasonic in a customised soapbar cover. Image: Eleanor Jane
Other notable differences from stock that were the result of Les Paul's experiments include dual output jacks (one at instrument level for guitar amplifiers and the other at line level for recording direct to desk) and hum-cancelling dummy coils inside the guitar's expanded cavities.
Guitar.com recently saw this remarkable instrument at first hand while photographing it at Christie's in New York and we also spoke to both Gene Paul and Tom Doyle about their recollections for a forthcoming in-depth feature. Stay tuned to Guitar.com for the full story.
Head to Christie's for auction details and visit the guitar's official website for more.  
 
The post Les Paul's number one guitar set for auction at Christie's appeared first on Guitar.com | All Things Guitar.
Source: www.guitar-bass.net