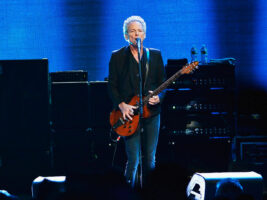 Lindsey Buckingham says "pretty much everyone" would love to see him return to Fleetwood Mac
Ex-Fleetwood Mac guitarist Lindsey Buckingham has said that "pretty much everyone" would love for him to reunite with the band, and has claimed that his firing in 2018 "harmed the band's legacy."
READ MORE: Lindsey Buckingham releases new single from upcoming solo LP, On The Wrong Side
Buckingham was speaking on the WTF With Marc Maron podcast, discussing the origins of his solo career. It began with Tusk, for which Buckingham wrote most of the songs. "[The rest of the band] were a little bit wary of doing it in the beginning," he said. "but they got completely drawn into it by the time it got done. They loved it."
"But when it did not sell close to 16 million copies [a la Rumours] – I think it probably sold four or five, and it was a double album. So, Mick [Fleetwood] came to me one day and he said 'Well, we're not going to do that again.'"
"He's not blaming me, he's just saying you know, 'That was your art album, we want to do something a little broader now,'" Buckingham surmised. "I realised at that point that I wasn't going to be able to continue to sort of aspire to be the artist I wanted to be unless I started making solo albums."
However, the time Buckingham wanted for his solo projects clashed recently with his commitment to Fleetwood Mac. He recalled asking the rest of the band for three months to release and tour on a solo album, but "there was certainly one person who did not want to bestow that on me."
Marc Maron then asked if he was referring to Stevie Nicks, to which he replied: "Yes, I mean to be fair, everyone was anxious to get on the road. But you know, we've all made time for each other's things. You know, I had been in the band for 43 years for god's sake. Jesus.
He explained how the tensions escalated to his firing: "It just got to the point where someone just didn't want to work with me anymore, and other people were perhaps not feeling empowered enough to stand up for me when possibly they should have or could have.
"We spent 43 years building this legacy which was about rising above things. It stood for more than the music. And by allowing this to happen through some levels of weakness – my own weakness included – I think we did some harm to that legacy and that's a shame."
However, Buckingham is still in contact with Mick Fleetwood, saying: "We love each other and we reinforced each other's sensibilities in the band," before stating that "it's my sense that pretty much everyone would love to see me come back."
The post Lindsey Buckingham says "pretty much everyone" would love to see him return to Fleetwood Mac appeared first on Guitar.com | All Things Guitar.
Source: www.guitar-bass.net