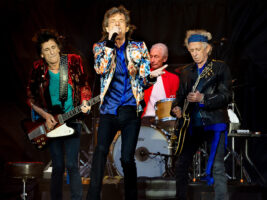 Little-known songwriter files copyright suit against The Rolling Stones
A songwriter has reportedly filed a copyright infringement lawsuit against The Rolling Stones, alleging that the band's single, Living In A Ghost Town, "misappropriated" elements from two of his songs.
READ MORE: Jeff Beck tribute concert featuring Eric Clapton, Johnny Depp and more to take place this spring
Sergio Garcia Fernandez, who performs with the band Angelslang, filed his suit against Mick Jagger, Keith Richards, Universal Music Group, BMG Rights Management and Promopub on Friday (10 March).
According to a report from Classic Rock, Fernandez claimed that the Stones' 2020 single borrowed "vocal melodies, the chord progressions, the drum beat patterns, the harmonica parts, the electric bass line parts, the tempos, and other key signatures" from the Angelslang song So Sorry along with the "harmonic and chord progression and melody" from another, Seed of God.
The report adds that Fernandez claimed to have given a member of Jagger's family – who wasn't included in public filings – a demo CD of the songs, and that the Rolling Stones frontman had received the disc.
"The immediate family member … confirmed receipt … to the plaintiff via e-mail, and expressed that the musical works of the plaintiff and its style was a sound The Rolling Stones would be interested in using," Fernandez's lawyers wrote in their complaint (via Billboard).
The post Little-known songwriter files copyright suit against The Rolling Stones appeared first on Guitar.com | All Things Guitar.
Source: www.guitar-bass.net