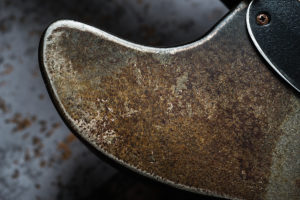 Loïc Le Pape Steel Junior
The passion that French artist, engineer and luthier Loïc Le Pape has for his craft has translated into achingly desirable guitars. Chris Vinnicombe steels himself…
We met Loïc Le Pape at the Holy Grail Guitar Show back in September 2016 and were instantly transfixed by the '1946' model he'd brought along to the boutique guitar expo in Berlin. If you imagine a B&G Little Sister made by James Trussart, then you'd be thinking along the right lines.The post Loïc Le Pape Steel Junior appeared first on Guitar & Bass.
Source: www.guitar-bass.net