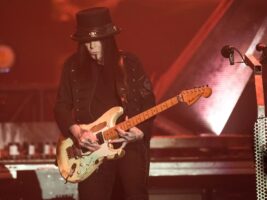 Make no mistake: Mick Mars can still shred – listen to his new solo single, Loyal To The Lie
Ex Mötley Crüe guitarist Mick Mars has released a new solo single and make no mistake – the man can still shred.
READ MORE: Concert organisers in Malaysia reportedly told to implement kill switches at shows following The 1975 kiss controversy
Loyal To The Lie is the lead single from Mars' upcoming solo debut album, The Other Side of Mars, which is set for release 23 February 2024. A Halloween-themed music video for the new single has also been released. You can watch it below:
The release comes after many months of back and forth regarding his ongoing legal battle with Mötley Crüe, in which Mars has claimed that the band has attempted to "take [his] legacy away".
The guitarist retired from touring last year due to his ongoing battle with Ankylosing Spondylitis (AS), before suing Mötley Crüe for allegedly cutting him out of profits, and kicking him out of the band against his will.
Speaking to Variety back in April about his relationship with the band's members, the guitarist said that "Those guys have been hammering on me since '87, trying to replace me."
"They haven't been able to do that, because I'm the guitar player. I helped form this band. It's my name I came up with [the Motley Crue moniker], my ideas, my money that I had from a backer to start this band. It wouldn't have gone anywhere."
However, this release shows that not only is Mars a great guitarist, but he can very much still shred.
Earlier this week, former Mötley Crüe producer Tom Werman described Mick Mars as his "favourite" member of the band, adding that "the other three are somewhat different".
"Mick was my favourite guy. We really got along and worked very well together," he said. "He's a good guy… He's a very decent person. The other three are somewhat different. Not that they're that much worse, but their behaviour and track record is not what Mick's is."
"I'm in his corner, but I really don't know the facts, so I shouldn't really make any judgement."
The post Make no mistake: Mick Mars can still shred – listen to his new solo single, Loyal To The Lie appeared first on Guitar.com | All Things Guitar.
Source: www.guitar-bass.net