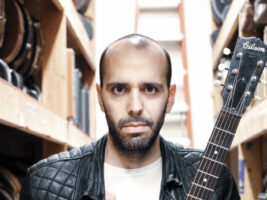 Mark Agnesi says the TV Yellow Les Paul Special offers the best value of the whole Gibson lineup
Gibson's Director of Brand Experience, Mark Agnesi, has revealed what he believes to be the best value-for-money guitar from the Gibson line up, and the answer may surprise you.
READ MORE: "Amps and pedals aren't there to elevate our playing, they're there to get out of the way of our playing": Nuno Bettencourt says personality should come before gear
In an interview with Guitar World, the former Normans Rare Guitars manager makes the revelation that the Gibson USA Les Paul TV Special is the best guitar to buy if you're looking to get the most for your money.
"If I had to pick one guitar out of the whole catalogue, and I was on a budget, I would probably go with the Les Paul TV Special just from Gibson USA," explains Agnesi. "Man, that guitar is killer. It's under $2,000. And that's a lifer, you know? You can do a lot with that guitar. And it looks like you're playing a vintage guitar."
"Every single spec is the same as a vintage guitar from the late-'50s would have," he continues. "I think that's probably, value-wise, your absolute best bang for the buck."
The Les Paul TV Special was originally introduced by Gibson in 1955, based on the Les Paul Junior, with a slab mahogany body, a '50s-style mahogany neck, rosewood fingerboard, two P-90 pickups and the three-way toggle switch.
Agnesi has never been shy in sharing his admiration for the Les Paul Special: "It's all the tone you need, no frills," he explains in a video. "Still one of the most iconic guitars that Gibson ever made."
Following on from this, Agnesi is then asked what guitar he considers to be underrated.
"Maybe in the acoustics," considers Agnesi. "Like an L-00. Sometimes people pick them up and just bang and strum on them – and that's not the guitar for that. So I think some people overlook it sometimes.
"But if you're really doing the fingerstyle blues thing, like, that's the guitar that has the sound. I think people might overlook that particular model because it's not your classic 'pick it up and strum on it' like a J-45, or a Hummingbird."
The post Mark Agnesi says the TV Yellow Les Paul Special offers the best value of the whole Gibson lineup appeared first on Guitar.com | All Things Guitar.
Source: www.guitar-bass.net