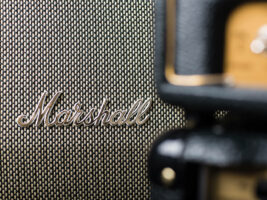 Marshall Amplification is being acquired by Zound, maker of Marshall-licensed Bluetooth speakers
Marshall Amplification is being acquired by Zound Industries, the Swedish company that previously licensed the Marshall brand for headphones and speakers.
READ MORE: Billy Corgan says despite Smashing Pumpkins' success, "it was just constant criticism"
While the financial terms of the deal have not been disclosed, the resulting company will be referred to as the Marshall Group. The Marshall family will serve as the largest shareholder with a 24 per cent stake.
In an interview with The Verge, CEO of Zound and future CEO of the Marshall Group Jeremy de Maillard says that the deal is about both Marshall's engineering expertise and acquiring the brand name.
"The way I like to think about it is that Zound has been making products to listen to music, and Marshall has been making products to make music or to play music," says de Maillard.
"We brought the Marshall brand to over 90 countries through the headphones and the speakers. So it became a much more known brand by the masses than it was before," de Maillard claims. "Before it was the in-the-know, the musicians, people who were really into music who knew about the brand. But through this partnership, we've managed to touch a lot more people."
"I don't have the number, but I'm pretty sure that drove a lot of people to start playing guitar as well," he continues.
As well as being the largest shareholders in the new private company, former Marshall CEO Victoria Marshall and Terry Marshall who built the first Marshall amplifier with his father in the 60s, will sit on the board of the Marshall Group.
"Since my father and I created the original Marshall amp back in 1962, we have always looked for ways to deliver the pioneering Marshall sound to music lovers of all backgrounds and music tastes across the world – and I'm confident that the Marshall Group will elevate this mission and spur the love for the Marshall brand," Terry Marshall said in a statement.
"Having worked alongside my father during his later years, I know he would be excited at this direction and the potential to reach a larger worldwide audience," added Victoria Marshall.
The post Marshall Amplification is being acquired by Zound, maker of Marshall-licensed Bluetooth speakers appeared first on Guitar.com | All Things Guitar.
Source: www.guitar-bass.net