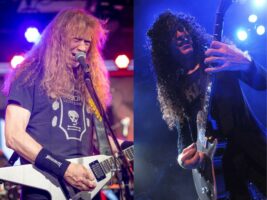 Marty Friedman hints that another Megadeth reunion may happen in Europe
Following his onstage reunion with Megadeth earlier this week, Marty Friedman has explained what he found most difficult about the event and hinted that another reunion may be coming to Europe.
READ MORE: Marty Friedman recalls playing a Jeff Beck piece in front of Eddie Van Halen and Jason Becker: "it just plain sucked"
Fans rejoiced on Monday (27 February) when the ex-Megadeth guitarist made a surprise appearance onstage with the band– his first time performing with them since 2000.
Taking place at the Budokan venue in Tokyo, Japan, the event saw Friedman perform some of the band's most popular songs alongside current guitarist Kiko Loureiro.
Now, in a new interview, the guitarist has explained that there may be another opportunity to rejoin the band onstage. Discussing whether or not fans can keep their hopes up for another potential performance with Megadeth, Friedman briefly told Guitar World:
"We are both playing at Wacken Open Air Festival in Germany this summer, so you never know…"
Although another reunion is far from confirmed, when paired with Friedman's comments in another recent interview, it seems likely that the two acts could discuss the possibility at a closer date. This comes as Friedman recently told Consequence that he has "left the door open" to performing with the band again.
This year will mark Friedman's first-ever appearance at the German festival. Although a specific time and date have not yet been announced, the guitarist confirmed that he'd be performing at the event in a recent Facebook post.
Elsewhere in the GW interview, Friedman shared the most difficult aspect of performing with the thrashers again, saying he found it tricky to play his solos in the same way as they were written.
"My playing has evolved so much since those songs came out, and there are so many nuances I would naturally do differently now," he explained.
"I had to resist the urge to play it like I would in 2023 and stick to the original way. For example, in a couple of those songs, I entered the solo on the downbeat, with the first note being the root of the chord. I would definitely avoid both of those things now, but apparently, I was fine with it back then."
The post Marty Friedman hints that another Megadeth reunion may happen in Europe appeared first on Guitar.com | All Things Guitar.
Source: www.guitar-bass.net