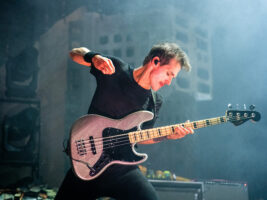 MCR's Mikey Way: "I hope that we're the band that get to pass the torch"
"It's crazy to think about how much time has gone by since the last one!" says Mikey Way, reflecting upon his newest Fender signature Jazz bass which has arrived 11 years after his first foray into signature instruments. "It seems like just two years ago. You don't realise how quick a decade shoots by."
READ MORE: Kevin Shields: Fender were the first brand to ever really ask me to do a signature pedal
The My Chemical Romance and Electric Century bassist knows all too well how much can happen in that timeframe. The breakup of a band; the formation of a new one; reuniting with the old band; a sold-out world tour. Not to mention a global pandemic, a marriage and two children.
Things have also gone a little more upmarket since that silver-finished first signature bass – a Squier Mustang. This time, perhaps reflecting My Chem's status as emo aristocracy since their surprise 2019 reunion, it's a full Fender Jazz Bass, which is handy as Way believes his "approach to the signature bass has definitely shifted", but one thing has clearly stayed the same. He sure does love glitter.
Image: Fender
Getting Into Gear
You can just tell sitting across from the computer screen in his Nashville home that Way's love for the bass and all its technicality, is monumental.
After the disbanding of My Chemical Romance in 2013, Way says he found his previous signature Mustang, a "little too confining", especially due to the short-scale neck. It was an experience that brought him back to the Jazz – an instrument he says solidified his love for the bass back in 2000.
"I started checking out what Fender had to offer," he admits. "My first kind of experience with a real instrument was a Fender Strat, so from that being my jumping on point, it's why I'm kind of partial to Fender".
As he explains, this then led to a conversation with Head of Signature Artists at Fender, Michael Shulz, who sent him a Fender Jazz bass, and he "never went back since".
"The reason I love the Jazz Bass is the neck," he clarifies. "Especially on my signature model I was very clear that we had a neck that started out thin that got wider as it got to the bottom, a C neck! As far as comfortability and speed, I kind of dig it, it's just kind of personal preference but I like the thinner neck.
"The reason I love the Jazz Bass is the neck"
"I think the alder body, I love the way it feels, I love the shape and it's great in keeping a balanced tone – mids, highs, it covers all of it. Earlier on in my career I've tried different basses but it always felt a little alien to me. I always thought, this doesn't feel right, that doesn't feel right, but it's a real testament to Fender. It's what I've always known and loved, and it's what I've always gravitated towards.
"The people at Fender really will build me whatever I want. They have helped me made a couple basses throughout the years, and I've been able to share with everyone which doesn't go unnoticed on me how fortunate I am! When you think about how many bass players there are in the world, being chosen to have a limited edition is a special kind of honour".
A special kind of honour it certainly is, and Way seems adamant that this collaborative approach is needed when trying to create the specific MCR sound.
"I like something to sound even, but it has to sound big, that's the hallmark of the MCR tone. It can't be too clean, can't be too growly, it's got to hit you just right, it's hard to explain it. Which brings me to the signature edition. Using the 70s Jazz Bass pickups, they needed to be in there because that's as close as I could probably get to the MCR tone".
Image: Fender
However, it is clearly not just the guitar that has allowed him to develop and hone this "big" sound over the years. Instead, he gives much of the credit to Rob Cavallo, American record producer whose large repertoire includes the likes of Green Day's American Idiot, Goo Goo Dolls' Dizzy Up The Girl, and of course My Chemical Romance's The Black Parade. It was when the band were recording their third album, Danger Days, that Cavello encouraged the bassist to use a Klon Centaur in his tih.
"I tried it and from that moment on, it kind of puts this tone and a veil on your instrument where it's kind of an overdrive, kind of a compressor. It creates a nice basis for a tone and then you can go to your head and tweak it."
"James Bowman from Against Me! has a pedal company called Bowman Audio Endeavours, and he makes this Bowman and it's pretty close to the Centaur [The Bowman Overdrive – Ed]," he continues. "That's also a favourite pedal of mine, because I don't always want to bring the Centaur on the road with me because it is rare and expensive, and James' is just as good for my purposes. He has a tonne of different pedals that my bass tech Joe tries to incorporate into my rig sometimes, we tweak everything together. However, the Overdrive is probably my favourite."
Image: Fender
The Foundations of Way
My Chemical Romance was, and still is a band that has carved out an individual path. Despite the Way brothers being known for realising their passion while watching the Smashing Pumpkins headline Madison Square Garden in the mid 90s, MCR has made one thing clear: they are a sound you have never heard before, and never will again.
"I think our sound was really developed when we thought about a band that we wish existed," says Way. "We took everything we loved about our favourite stuff and without aping anything we just tried to make it our own. I feel like that's how we ended up with the sound of MCR.
"You know from ground zero it was like, what if Morrissey sang for Iron Maiden? We kind of dreamt up a sound and I feel like we nailed the sound that we set out to create," he continues, "and I think it ended up unique, and I don't think you can listen to MCR and think 'oh they're just ripping off x, y or z'. I think we've incorporated all our inspirations into our DNA, and we're able to have an organic natural sound."
Regardless of MCR's authenticity as a band, Way is not shy in admitting who the icons are that allowed him to find his passion in music. Aside from the Pumpkins, of course, he notes Paul Di'Anno from Iron Maiden, and New Order's Peter Hook among those who inspired him to pick up the bass.
"I still am a big Weezer fan, Matt Sharp especially," the bassist says. "I love Micky Welsh, but Matt Sharp was very important to me when I was younger. When I was younger and first playing the bass guitar, for me, Weezer was so prominent, especially with the Blue Album. I loved how he played, and I love how much fun he had up there. He owned it and I respect that so much."
There's clearly quite a dichotomy between the world of Mikey Way, who has a deep love for alt-rock, and the "aggressive poppy punk with hints of hardcore" of My Chemical Romance.
"I cut my teeth on that album," he bluntly says. "Once I joined MCR it was this different world. The New Jersey scene around me, it was a lot faster and a lot more aggressive so I had to follow suit and for someone who came from the world of trying to play like you're in The Smashing Pumpkins, and then you're going into this world where you're playing with American Nightmare and the Get Up Kids, so I think that's why my bass playing is like it is, because I went from this alt-rock world, to this punk world. It gave me a good range."
Image: Fender
Finding the Power to Inspire
Despite being admittedly "shy by nature", Way is determined to show younger bassists how to get to his position, just like The Smashing Pumpkins did for him.
"I think everyone in the world starts out aping something," the bassist admits. "You look at the legends, The Beatles. They were copying their favourite R&B bands and doo wap. It's the same thing with Rock n Roll, you're aping and then eventually those training wheels fall off.
"I remember nudging my brother, during the Smashing Pumpkins concert at Madison Square Garden, and saying this is what we're going to be doing when we're older, we're going to be playing this place especially, but this is what we're going to be doing. He said to me "maybe you're right". It's just this thing where we've had this realisation and I feel like that's what music does to people, it possesses you almost.
"For me there are bands that got me to pick up an instrument," he continues, "and I hope that we're the band that get to pass the torch. I want to inspire kids to say, "that's what I want to do for a living. It's a cool power to have."
The post MCR's Mikey Way: "I hope that we're the band that get to pass the torch" appeared first on Guitar.com | All Things Guitar.
Source: www.guitar-bass.net