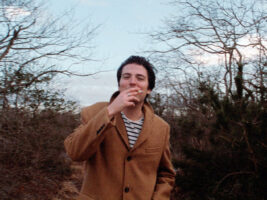 Meet Dan Cousart: The Philadelphia upstart with a penchant for partscasters and psychedelia
Who are you?
"My name is Dan Cousart, I'm a 24-year-old singer songwriter and producer from the Philadelphia area."
READ MORE: Julian Lage on his new album Squint, and why good songwriting is like writing a good joke
Tell us what you sound like…
"I've gotten a lot of comparisons to The Strokes and Arctic Monkeys in the past, which I take as a compliment for sure. This new project has a little more dance and hip-hop sprinkled in that mix, as well as a bit of psychedelia à la King Krule, Tame Impala and Spoon."
What's your number one guitar and why?
"My number one guitar is my blue Deluxe Player Fender Strat. I just love the way it plays, the way it looks and the fact that it works so well in the studio for what I'm doing. I actually lost it for about two years after playing a number of random basement gigs, where my band at the time was on the move constantly. It sucked, and I thought it was gone for good.
"Somehow my friend saw on Instagram that a guy I knew found it in some basement and had been using it. He was nice enough to return it to me, and it's been my go-to ever since. I'm really thankful for that because my late grandfather had bought it for me, so it holds a special place in my heart. My other go-to guitar is my Gibson 62' SG reissue. I've kind of Frankensteined it and added noiseless Lindy Fralin P-90 pickups and a Bigsby."
What piece of gear could you not live without?
"That's a tough one! I'm really in love with my Fender Blues Junior amp at the moment, it just sounds awesome, I can't wait to play more live shows with it. It can break up into a tube overdrive at such low volumes, and it really packs a punch. I also love my Fulltone OCD overdrive pedal. It's so versatile and can get hectic (in a good way)."
What's the best guitar part you've ever written?
I'd have to say the lines in my song They Don't Care About You are my favourite at the moment. I got really into swelling chords with a light tremolo recently, and I just think it sounds awesome."
What was the first song you learned to play?
"Probably Smoke On the Water like everyone else! That or a Green Day song."
Who do you wish you could play like?
"That changes every day. I wish I could play the acoustic guitar like Paul Simon and Lindsay Buckingham. They both have super complex, percussive, yet really hooky guitar parts that they can play while singing; blows my mind. I'm also a big fan of the way Kevin Parker of Tame Impala plays with fuzz and the way David Gilmour plays his leads with such heavy delay. Johnny Marr too, his parts are so challenging yet so simple."
Image: Brett Long
What's your most memorable gig?
"Well, I'll give you a good one and a bad one. Here's the bad one: I played the Manayunk Street Festival (a town just outside of Philadelphia proper) which was supposed to be attended by 3,000 plus people, but it rained and snowed on that day. The band I was in was still asked to play at this outdoor show, so we played for five people, which were my parents, two of my friends and one of the other band member's parents! I slipped and fell on my back and hit my head, was shocked by the microphone, and parts of the drum kit were blown off the stage due to the wind.
Good one: I played Ardmore Music Hall to 500 people who were very into it. There's no better feeling than having a large crowd of people singing your songs back to you."
What's your house-party/campfire song?
"If I've had a few, and am with some friends, I'll whip out I'm On Fire by Bruce Springsteen. Everyone knows that song."
Image: Brett Long
What's the best song you've written so far?
"It's tough to say, because I really do like most, if not all, of what I release for various reasons. I really like They Don't Care About You and my debut single Look Back, but a big part of the fun for me, is playing music I've written that I love."
You've made it, you're a rock superstar – what's your first side-project called?
"Druncle Dan. I'll dress in a leotard and sing 70s bar songs."
Where do you see yourself in ten years' time?
"Hopefully still making music I'm excited about. The journey I've taken so far has showed me a lot, and I hope that I'm yet to write my best material. It'd be nice to make a living off it as well. I'm hopeful streaming services will start to compensate artists better moving forward. If I could achieve a comfortable living off my own music, I'd be a really happy guy."
Where can we see you play next?
"Once the pandemic is over, I hope to come to a small venue near you!"
What's your next record called and when can we hear it?
"My debut EP is called Here's Five Songs and it's out now. The first single, 'Look Back', will be out on all streaming/online platforms."
Tell us something interesting about yourself that has nothing to do with guitar…
"Ah man, music (and playing guitar) is my life, kind of hard to separate the two. I have really nice legs though, I'm sure you'll all be jealous."
Dan Cousart's EP, Here's Five Songs, is out now. 
The post Meet Dan Cousart: The Philadelphia upstart with a penchant for partscasters and psychedelia appeared first on Guitar.com | All Things Guitar.
Source: www.guitar-bass.net