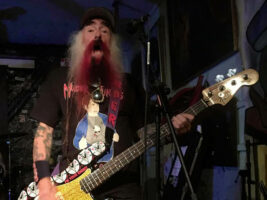 Merle Allin opens up on GG Allin's death: "My poor brother got trapped in his own insanity"
Merle Allin has looked back on the life of his brother and former bandmate – the infamous punk rocker GG Allin – in a rare, new interview.
READ MORE: JET Guitars JS-400 SFG Relic review – is this the best sounding affordable S-type on the market?
The elder Allin was the subject of a new episode of interview series Soft White Underbelly, during which he detailed his many exploits with his brother, discussed their challenges growing up "different" in rural New Hampshire, and how a joint love for music ultimately set them on their path with the notorious Murder Junkies.
"We had seen the Beatles on the Ed Sullivan show, and that kind of cemented what we wanted to do with our lives – as it did for many people," Merle recalled of their early discoveries in music. "When you're as isolated as we were, it's like 'Wow! what is this that's going on out here' you know?"
Soon after, the Allin brothers became obsessed with music, as Merle put it, "We basically were living music 24/7 – everything involved in our lives was about music."
"We would go to department stores and steal records; we would break into cars [and summer houses] to get whatever we could to sell stuff to buy music. That's what we did all the time."
During the interview, Merle also discussed his brother's downward spiral toward the end of his life – and how "pushing the envelope" eventually led to more violent, controversial stage performances, and eventually GG's death in 1993 from a heroin overdose.
"I feel that my poor brother got trapped in his own… insanity maybe? Because he always seemed to have to push the envelope a little more," Merle said. "Once you have that kind of persona, people expect things of you, [and then] you have to take it to another level."
"As he got a little older, alcohol consumption didn't help matters at all. And the drug thing; my brother was not a junkie by any means – he didn't really do heroin hardly at all."
"He'd do whatever you gave him – if you gave him drugs he'd take them [and] he wouldn't even ask you what they were. But he wasn't a junkie: drugs were not his problem. Alcohol was."
Watch the full interview below:
The post Merle Allin opens up on GG Allin's death: "My poor brother got trapped in his own insanity" appeared first on Guitar.com | All Things Guitar.
Source: www.guitar-bass.net