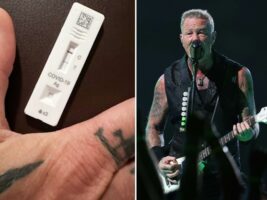 Metallica cancel concert after James Hetfield catches COVID-19
Metallica has postponed the second night of their M72 World Tour stop in Arizona after frontman James Hetfield tested positive for COVID-19.
READ MORE: Nuno Bettencourt says modern guitar music is too complicated: "I don't even know what the f**k they're doing"
The band made the announcement after playing their opening show at Glendale's State Farm Stadium on Friday (1 September).
"We're very sorry to report that tomorrow's scheduled M72 date at State Farm Stadium has been postponed to Saturday, September 9, 2023," Metallica wrote on Instagram, noting that "COVID has caught up with James."
"We're extremely disappointed and regret any inconvenience this has caused you. We look forward to returning to complete the M72 No Repeat Weekend in Glendale next Saturday."
View this post on Instagram
A post shared by Metallica (@metallica)
The tour, which launched in Amsterdam in April, sees Metallica play two shows in each city, with a unique setlist each night and no repeats, as well as different support acts.
Arizona Republic reports that Hetfield had faced some vocal issues during Metallica's performance at State Farm Stadium last week, finishing the show with 14 songs (cutting 'The Day That Never Comes' and 'Master of Puppets') instead of the band's usual 16-setter.
On a lighter note, Metallica has recently claimed the title for the highest single-show attendance at Los Angeles' SoFi stadium.
The metal titans drew nearly 80,000 fans to the California venue on Friday (25 August) for the first of their two M72 World Tour shows there, while the second show on Sunday (27 August) attracted a similar number, bringing more fans into the stadium on one night than Taylor Swift and the Super Bowl.
Over 156,000 tickets were sold for both shows in total.
The post Metallica cancel concert after James Hetfield catches COVID-19 appeared first on Guitar.com | All Things Guitar.
Source: www.guitar-bass.net