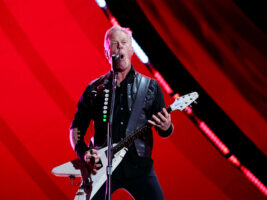 Metallica have purchased their own vinyl pressing plant
Metallica have purchased the Furnace Record Pressing in Alexandria, Virginia in response to the increasing demand for vinyl.
READ MORE: Marty Friedman explains how "perfectly tuned and quantized" American music is different from Japanese music
The pressing plant, which has worked with Metallica for over a decade, will now help the band keep up with the demand for its back catalogue, as well as meet the demand for the group's upcoming album 72 Seasons.
In a statement to Billboard, drummer Lars Ulrich said that Metallica "couldn't be more happy" to take their partnership with Furnace to the next level, with James Hetfield adding that the plant had been "great to Metallica and more importantly to our fans."
The purchase, Hetfield said, would ensure vinyl buyers "will have continued access to high-quality records in the future."
Furnace will not become a Metallica-exclusive pressing plant, however, as current plans are for the plant to continue accepting commissions from other artists. "They want to keep the quality and service the whole industry," Furnace CEO Eric Astor told the outlet. "It will give us the opportunity to invest more."
Metallica's 72 Seasons, the first full-length record with all-new material from the band since 2016's Hardwired… To Self Destruct, will be released on 14 April. The band have already released three singles from the album in Lux Æterna, Screaming Suicide and most recently, If Darkness Had A Son.
The post Metallica have purchased their own vinyl pressing plant appeared first on Guitar.com | All Things Guitar.
Source: www.guitar-bass.net