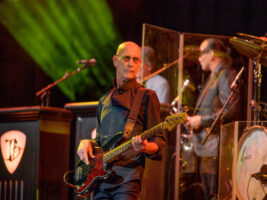 Michael Rhodes, bassist for Joe Bonamassa and more, has passed away aged 69
Michael Rhodes, an esteemed bassist who has played alongside some of the world's most successful artists, has sadly passed away aged 69.
A representative for Rhodes confirmed his death to Billboard, and shared that he passed away at his home in Nashville, Tennessee, Saturday morning (4 March). No cause of death was given.
Rhodes was inducted into the Musicians Hall Of Fame in 2019 due to his outstanding career –  In the early years, Rhodes featured alongside J. J. Cale, Dolly Parton, Lonnie Mack and Hank Williams Jr.
He would go on to work alongside Vince Gill, Etta James, Larry Carlton, Elton John, Mark Knopfler, John Fogerty, Dixie Chicks, Brian Wilson and plenty more. Rhodes became bassist for blues giant Joe Bonamassa in 2013, who he performed and recorded with on live and studio albums over eight years, including Different Shades of Blue (2014) and Royal Tea (2020). 
Bonamassa has paid tribute to the bassist and his dear friend on social media:
Rest in Peace my friend. I can't even get my head around this right now. pic.twitter.com/VRJL4OKHKS
— Joe Bonamassa (Official) (@JBONAMASSA) March 4, 2023
Other artists and fans have shared their kind words on Rhodes and his legacy, some of which you can read below:
Michael Rhodes: "My advice to up-and-coming players is to shut up and listen". You will be missed pic.twitter.com/ucKzgUbYPg
— Beth Hart (@BethHart) March 5, 2023
Michael Rhodes & I comparing bass thumbs. Rest peacefully my friend. Such a good soul and an amazing bassist! #restinpeace #michaelrhodes pic.twitter.com/Uax3m6ALs6
— Tony Franklin (@FretlessMonster) March 4, 2023
We are sad to learn of the passing of Michael Rhodes. He was most recently a member of Joe Bonamassa's recording and touring bands.
He was inducted into The Musicians Hall of Fame in 2019 as part of The Players.#musicianshalloffame #nashville #nashvilletn #michaelrhodes pic.twitter.com/kbQ2hCyFNN
— MusiciansHallofFame (@mhfm) March 5, 2023
His family have requested that donations be made to the Music Health Alliance to honour the star, which provides aid to musicians in need of healthcare and support. Rhodes' family also shared that he listened to John Coltrane before he passed: "He really loved jazz and John Coltrane, all those guys," Rhodes' wife said. "It fed him, always."
Our thoughts are with Michael Rhodes' family, friends and fans at this difficult time.
The post Michael Rhodes, bassist for Joe Bonamassa and more, has passed away aged 69 appeared first on Guitar.com | All Things Guitar.
Source: www.guitar-bass.net