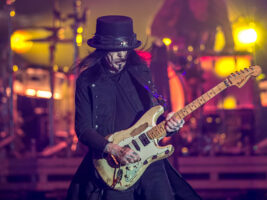 Mick Mars is releasing his first-ever solo single on Halloween
Fans of former Mötley Crüe guitarist Mick Mars should note that he is releasing his first-ever single as a solo artist this Halloween (31 October).
READ MORE: "He had a private nurse. It was like a hospital room in his bus": Don Dokken gets "teary eyed" thinking about Mick Mars' final tour with Mötley Crüe
The yet-to-be-named track will arrive as part of Mars' debut solo album, Another Side of Mars. Fans can also catch the world premiere of the track a day prior on SiriusXM's Trunk Nation With Eddie Trunk.
On Wednesday (18 October), the guitarist shared a 13-day countdown timer ticking to Halloween, while host Eddie Trunk posted a message stating: "Pleased to announce that I will be bringing you the world premier of the first ever solo music from Mick Mars on Trunk Nation! I'll debut the song 10/30, Mick will join me for an interview 10/31!"
View this post on Instagram
A post shared by Eddie Trunk (@eddietrunk)
Earlier this year, Mars told Rolling Stone that he was seeking out a record label to release his upcoming solo album, Another Side of Mars. The musician also made it clear that he will not be taking the album on the road, saying "I'm done touring."
"If somebody really, really wants a one-off, or a couple of nights, I would probably do it. But all that travel stuff and planes… I'm way over it."
Currently embroiled in a lawsuit with his former band, Mars has spoken about how his last tour with the Crüe had left him feeling "inferior".
"Nobody spoke to me in 2022," Mars said. "A lot of the time [I] felt like I was just playing by myself. You know how you can be in a crowd of people and still feel alone? That's how I felt that whole tour. I felt used, sad, and inferior."
"When we played the last show [in Las Vegas on 9 September, 2022] I felt relieved," he added. "A lot of the pressure was gone. But I was very emotionally wounded. They weren't just shallow wounds. They were deep ones; the kind you can't get over."
The post Mick Mars is releasing his first-ever solo single on Halloween appeared first on Guitar.com | All Things Guitar.
Source: www.guitar-bass.net