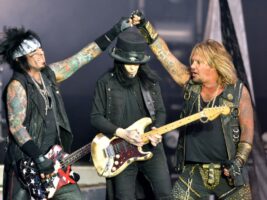 Mick Mars on Mötley Crüe lawsuit: "They're trying to take my legacy away"
Mick Mars has once again spoken up about his ongoing legal battle with Mötley Crüe and the band's alleged attempt to "take [his] legacy away".
READ MORE: Glastonbury: Turns out The Churnups were the Foo Fighters after all
Mars, who retired from touring last year due to his struggles with Ankylosing Spondylitis (AS), made headlines earlier this year after accusing his former members of cutting him out of profits and kicking him out against his will.
Addressing the lawsuit in a new interview with Rolling Stone, the guitarist says, "When they wanted to get high and fuck everything up, I covered for them. Now they're trying to take my legacy away, my part of Mötley Crüe, my ownership of the name, the brand."
"How can you fire Mr. Heinz from Heinz ketchup?" Mars adds. "He owns it. Frank Sinatra's or Jimi Hendrix's legacy goes on forever, and their heirs continue to profit from it. They're trying to take that away from me. I'm not going to let them."
Elsewhere in the chat, the musician also claims he was "squeezed out of the decision-making process" for Crüe's 1997 album Generation Swine (which marked the return of frontman Vince Neil after his exit in 1992).
"I don't think there's one note that I played. They didn't want my guitar to sound like a guitar, basically. They wanted it to sound like a synthesizer. I felt so useless. I'd do a part, they'd erase it, and somebody else would come in and play."
Speaking of the album that followed, New Tattoo (2000), Mars explains that he "didn't write any of those songs" as he "wasn't invited": "I think I got one lick on that album," he says.
Earlier this year, Mötley Crüe bassist Nikki Sixx said Mick Mars was "a little bit confused" about his standing with the band, adding that they've always been "really supportive".
In other news, Mötley Crüe and Def Leppard are currently on the European leg of their co-headlining World Tour, which will see them take on London's Wembley Stadium on 1 July. Visit the band's website for the full list of dates.
The post Mick Mars on Mötley Crüe lawsuit: "They're trying to take my legacy away" appeared first on Guitar.com | All Things Guitar.
Source: www.guitar-bass.net