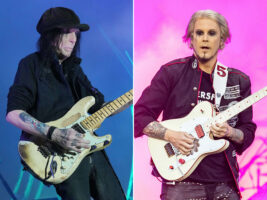 Mick Mars thinks Mötley Crüe made a "very, very wise choice" picking John 5 to replace him
Mick Mars has not exactly been quiet about his exit from Mötley Crüe, whether that be his ongoing legal battle with the band, in which Mars has stated that they attempted to "take [his] legacy away", or the claims that the band have been trying to replace him since 1987.
Now Mötley Crüe has actually replaced him, the guitarist has shared his thoughts… and they're surprisingly nice.
READ MORE: Make no mistake: Mick Mars can still shred – listen to his new solo single, Loyal To The Lie
In an interview with Guitar World, the guitarist reveals how he feels about long-time friend and fellow guitarist, John 5, replacing him in Mötley Crüe.
"Well, I've never disliked John, I've always liked him and still do. He's been a really good friend of mine for a long time," he admits. "So I think they've made a very, very wise choice with John."
American guitarist John 5, who has previously worked with David Lee Roth and Marilyn Manson, has previously revealed that Mick Mars sent texts of encouragement when he took his spot in the band.
Confirming that the pair "talk all the time", he said, "When I was announced as the guitar player, he was one of the very first texts that I got," John 5 reflects.
"He said, 'You're going to kill it.' It's good. It's not like it's some stranger coming in. We have a great respect for each other."
In more Mick Mars news, yesterday he released the first track off his debut solo album, and it's very clear that the man can still shred.
Loyal To The Lie is the lead single from Mars' upcoming solo debut album, The Other Side of Mars, which is set for release 23 February 2024. A Halloween-themed music video for the new single has also been released. You can watch it below:
The post Mick Mars thinks Mötley Crüe made a "very, very wise choice" picking John 5 to replace him appeared first on Guitar.com | All Things Guitar.
Source: www.guitar-bass.net