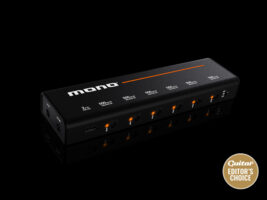 Mono Power Supply – a stylish, powerful solution for your pedalboard
Let's face it, we all love pedalboards – but whether you're rocking a tiny DIY minimalist board or a NASA-sized workstation, there's one thing you're always going to need: power. And while it's perhaps not the most sexy or fashionable thing to spend your money on, a good PSU can be the difference between a gig going off without a hitch and a total set-ending calamity.
READ MORE: Vangoa VPPD-S Power Pedalboard review – a low-profile 'board with a built-in power supply, could this be the perfect compact solution?
As such, we've seen plenty of brands both big and small move into the pedal power supply game, and now it's the turn of Mono – the Californian accessory brand beloved the world over for their innovative and rugged gigbags, but more recently their cleverly designed pedalboards, too.
The step into power makes sense then, and right from the off these first three supplies – unfussily named Power Supply Small ($129), Medium ($179) and Large ($229) – bring the same simple and classy design language to bear. It's all matte black, sleek curved lines and understated graphics here.
Mono Power Supply all sizes — Small, Medium and Large. Image: Mono
While we're used to smaller power bricks offering a minimal amount of options, the Small model here covers most of the bases you'd need for a compact 'board, with two 100mA outputs, two 150mA outputs and one 500mA output for heavy-DSP pedals from the likes of Strymon. All outputs are fully isolated too.
The Medium and Large on the other hand offer all the power you could ask for, with five and seven isolated 500mA outputs respectively, plus an extra 500mA variable voltage (9/12/18V) output on the medium and three variable outputs on the Large.
The Power Supplies all offer short circuit, overload, and thermal protection, while the input filter and multi-stage output filters should ensure an extremely low noise floor, all while maintaining energy-efficient operation. What's more, the Power Supply range is designed to be a modular enterprise; in the style of Strymon's Zuma and Ojai units, you can link your Mono supplies together to give serial pedalboard tinkerers the flexibility to expand and contract their power needs depending on the board in question. Both Medium and Large units are powered by a supplied 24V lead, while the Small uses a USB-A to B lead, and all power supplies come with mounting brackets, hook-and-loop, and self-tapping screws to attach it to your 'board without a trip to the hardware store.
In Use
Mono Power Supply Small with portable power. Image: Mono
At just shy of 1-inch deep, the Mono Power Supplies are smaller than the Strymon Zuma or The Voodoo Lab Pedal Power 3, making installation a super straightforward exercise. With the aid of the included mounting brackets, velcro strips, and some patience, all three power supplies are easily installed and can be chained together in a matter of minutes.
Testing the Power Supplies out in an improperly grounded basement running into a Furman M-8DX power conditioner, the low noise promises prove to be no idle boast. Outside of the 60-cycle hum provided by our trusty American Vintage II Jazzmaster, there was a noticeable reduction in hiss compared to other power supplies. All three supplies did a good job of handling a bunch of pedals, and the Medium and Large especially showed their mettle with the thirstiest pedals on our 'board with ease.
If there's one negative we can find, it's with the Small and its use of a USB-A to B lead for power; that's an old-fashioned printer cable to those of you not up on USB lingo. Mono claims it gives you the flexibility of being able to run your pedalboard off a power bank if you don't want to plug into a wall, and that's always a useful thing to have. But couldn't the same thing have been true if they'd used the more modern and much more widely used USB-C format instead?
Mono Power Supply Large, powered. Image: Mono
USB-C is perhaps not as rugged as USB-B and the last thing you'd want is a careless heavy foot to total the port, but we'd probably take the tradeoff for the flexibility of being able to use any USB-C charger to run your board in a pinch.
A power supply might not be as exciting as a brand new guitar, amp, or a shiny new effects pedal, but it's absolutely essential for the modern guitar player, and these new Mono units offer a compelling package. With their reasonable sizes, variable voltage options and noise reduction, this is a bold first step for Mono into a new area.
The post Mono Power Supply – a stylish, powerful solution for your pedalboard appeared first on Guitar.com | All Things Guitar.
Source: www.guitar-bass.net