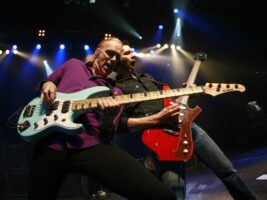 Mr. Big announce final world tour 'The Big Finish' alongside new live drummer
Mr. Big will embark on one final world tour dubbed 'The Big Finish' before calling it a day on their time as a band.
READ MORE: Joe Perry and Pete Townshend to cover classic 1950s tracks on Ann-Margret's upcoming album
Following the passing of drummer and co-founder Pat Torpey to Parkinson's disease in 2018, the band feel that their time as Mr. Big has come to an end, and will be marking the occasion with the world tour that will kick off in Japan and Asia this July and August. Concerts in South America, Europe, and the US for 2024 are also set to be announced.
In a statement shared with Blabbermouth, bassist and vocalist Billy Sheehan said of the tour: "We wanted to do a proper farewell, and this seems like the right way to do it," while guitarist and vocalist Paul Gilbert explained, "We're in the process of making sure we come up with a suitably big entertainment extravaganza to go along with our music. And since our music has resonated so wonderfully in places all over the world, we're going to play in as many of those places as we can."
Nick D'Virgilio of Spock's Beard and Big Big Train will fill in on the drums for the tour. Vocalist Eric Martin has praised D'Virgilio as the right man for the tour, sharing, "I love the fact that Nick was a fan of Pat Torpey and wants to keep our Big sound intact. When I first saw his audition demo video of the Lean Into It song Lucky This Time, Nick was playing drums with those signature Pat snare hits and singing harmonies spot on to what Pat used to do. It gave me goosebumps!! I am so thrilled to have this man who will be filling some mighty Big shoes join us on our last tour."
The post Mr. Big announce final world tour 'The Big Finish' alongside new live drummer appeared first on Guitar.com | All Things Guitar.
Source: www.guitar-bass.net