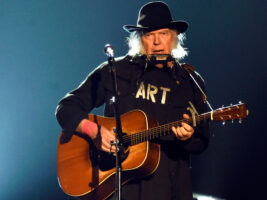 Neil Young to perform with David Crosby's son and Stephen Stills in first post-pandemic show
Neil Young will make first return to stage since 2019 at the upcoming Light Up the Blues charity concert, alongside fellow CSNY bandmate Stephen Stills and David Crosby's son, James Raymond.
READ MORE: Slash says Guns N' Roses would've been 'cancelled' today: "We would not have fared well in this environment, for sure"
Taking place on 22 April at the Greek Theatre in Los Angeles, the concert will mark Young's first public performance since the pandemic. Now in its sixth year, the benefit show — organised by Stills and his family since 2013 — raises money for autism awareness organisation Autism Speaks.
The singer-songwriter confirmed his upcoming attendance in a statement to Rolling Stone, saying: "We'll be there to 'Light up the Blues' with Stephen, [his wife] Kristen, and the family, doing our first show in four years with old friends for our autistic people around the world."
In addition to Young and Stills' headlining performances, this year's edition will feature appearances from Lukas Nelson & Promise Of The Real as well as a tribute to the late David Crosby from his son Raymond.
"His singing voice sounds so much like David that it's scary," Stills told the publication. "There's going to be some neat surprises. I've always had so much fun playing those songs, David's songs. We've got James, and now we can get the chords, which was always a carefully kept mystery."
A proponent of exercising caution against Covid-19, Young has been reluctant to return to live shows all while a growing number of artists have begun hosting large scale concerts and tours around the globe.
Last September, the artist pulled out of Farm Aid, citing concerns over Covid-19 transmission: "I am not ready for that yet. I don't think it is safe in the pandemic," Young told fans at the time. "I miss it very much."
The post Neil Young to perform with David Crosby's son and Stephen Stills in first post-pandemic show appeared first on Guitar.com | All Things Guitar.
Source: www.guitar-bass.net