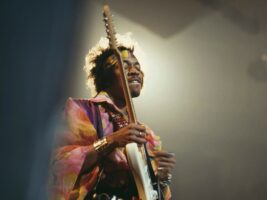 New colorised footage of Jimi Hendrix performing in 1970 at the Fillmore East has surfaced
A fully-colorised video of Jimi Hendrix performing has surfaced on YouTube.
The clip captures the guitar legend's iconic performance of a 12-minute extended version of Machine Gun, which was recorded live with Band of Gypsys at the Fillmore East on January 1, 1970.
READ MORE: "They played some Jimi Hendrix and Eric Clapton licks for me, saying, 'Buddy, these guys got this stuff from you'": Buddy Guy describes turning point in his career
Despite being intercut with the occasional snippet of stock footage for rights reasons, it is this performance which is widely considered to be the single greatest electric guitar performance in rock history.
At the end of the clip, Hendrix is shown saying: "That's one we don't wanna hear anymore, right?"
Check it out below:
In an upcoming Guitar World interview, Vernon Reid of Living Colour is set to explain  exactly why the Fillmore East performance of Machine Gun is so important.
"It's the one electric guitar performance that stands out as being about more than just the notes he's playing," he tells the outlet.
"Jimi was playing the zeitgeist there and spoke to what the nation was going through. He was communicating with people who were walking in rice paddies in Vietnam thousands of miles away. He was in solidarity with the Vietcong and the American G.I.'s with Machine Gun."
"Jimi plugged into something cinematic," Reid continues. "Like a movie coming from his guitar. If you look at a song like [Eddie Van Halen masterpiece] Eruption, while extraordinary, it's about the guitar itself, but Machine Gun is about the nation at a specific point in time. Jimi plugged into that at an unprecedented level."
The post New colorised footage of Jimi Hendrix performing in 1970 at the Fillmore East has surfaced appeared first on Guitar.com | All Things Guitar.
Source: www.guitar-bass.net