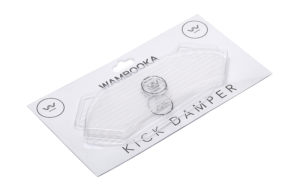 New drum accessories from MSC
The Music Shipping Company continues to add new and innovative drum accessories to its extensive catalogue. 'All of these are perfect for 'bricks and mortar' stores', MSC says, 'not just internet sales, as they have strong Unique Selling Points that enable a discussion with the customer. Accessories are a strong area of sales in these trying times for the Music Industry!'
First up is the Wambooka kick damper billed as 'the first drum gel designed specifically for bass drum'. Like the already popular Wambooka Performer pads for Snare and Toms MSC says it's transparent, super sticky, will stay firmly on a clear or coated bass drum head, and can be quickly removed, leaving no residue or damage to the heads. The Kick Damper can be used on the playing side and/or the resonant head. and will control 'ring' from the bass drum and enhance the low frequency response of a drum. Available in a pack of 4 x dampers with fitting guidance options, it is specifically designed to fit close to the edge of the head and is re-useable. Simply wash with warm water when needed, to restore stickiness.
'Wambooka Kick Damper totally eliminates the need for pillows and blankets in the drum and will work exceptionally well with vintage style heads or budget heads and can be used to eliminate the need for a sound hole in the front display head. Suitable for all sizes of bass drum including Marching Drums, MSC adds. SRP in the UK is £11.99 per pack
StickARK is an innovative drum stick holder for quick access to drumsticks, beaters and brushes. It sits on top of the bass drum and holds 4 x sticks that are easily grabbed in the event of a 'dropped stick incident'! No permanent fixings are used so no modification is required and there is no damage to the drum. The makers point out that it is closer than reaching down to a stick bag or tube type holder, and whilst some drummers just place sticks on the bass drum, StickARK stops sticks rattling or sliding off.
MSC says it fits perfectly on all standard 8 or 10 lug bass drums in 18″, 20″, 22″, and 24″sizes. SRP in the UK is £16.99
Finally, 'The innovative Dixson Bass Drum Lift performs two really useful jobs,' MSC claims. 'Firstly, it eliminates the need to attach the bass pedal directly to the drum hoop, saving damage to the hoop and also eliminating foot pedal vibration. Fitted correctly it also reduces bass drum 'creep' during prolonged or heavy playing'.
The Dixson lift also reduces the point of contact of the drum with the floor causing a significant increase in resonance, volume and low frequency with better fundamental tone as the beater strikes the drum head at the optimal position.
Suitable for Single and Double pedals with bass drums from 16″ to 24″ Made in the USA SRP in the UK is £44.99
Info: www.musicshipping.co.uk
The post New drum accessories from MSC appeared first on Music Instrument News.
Source: musicinstrumentnews.co.uk