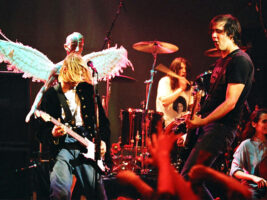 Nirvana's 10 greatest guitar moments, ranked
Nirvana didn't simply usher in the popularity of a whole new genre (if the disparate group of Northwestern bands that got lumped into 'grunge' can be even called a genre) it changed guitar music in such a profound fashion that Kurt Cobain's impact is still being felt over 30 years later.
It wasn't just that Nirvana swept away the preening guitar heroes of the 1980s asides in an avalanche of plaid with one strum of a powerchord. Kurt's rudimentary but devastatingly effective approach to guitar playing destroyed the 'guitar-as-sport' veneration of virtuosity that had become embedded in the community over the previous decades.
Krist Novoselic (left) and Kurt Cobain (right) onstage in 1991. Image: Paul Bergen/Redferns via Getty Images
For the first time since punk, kids all over the world were reminded that anyone could play guitar, and countless millions took up the offer – spawning wave after wave of bands of every genre imaginable.
But this earth-shaking impact often overshadows the fact that, when he wasn't smashing his cheap Fender guitars to bits in iconic fashion, he was responsible for crafting some of the most memorable, catchy and effective guitar parts ever seen.
Before Kurt's tragic death in 1994, Nirvana only managed three studio albums, plus a handful of live albums and compilations, but you'd be hard-pushed to find a more concentrated distillation of guitar magnificence.
10. Smells Like Teen Spirit (Nevermind)
Look, you knew it was coming somewhere, didn't you? And while it might have become so ubiquitous that Teen Spirit is up there with Stairway… and Smoke On The Water in the guitar shop banned riff list, there's a reason why it's so powerful.
Teen Spirit was the song that brought Nirvana and grunge to the mainstream, and as statements of intent go – for both Cobain the songwriter and Cobain the guitar player, it's pretty undeniable. That iconic four-chord riff, the whiplash-inducing dynamics of the verse slow-down – it's hard to imagine a better fusion of pop, hard rock and punk, and it's rightly regarded as one of the most important songs ever written.
9. All Apologies (In Utero)
Following the galaxy-shifting impact of Nevermind was always going to be an impossible feat, but it speaks to how uncomfortable Kurt was with the fame that album had brought him that In Utero feels like a wilful attempt to alienate as many people as possible.
The radio-friendly unit shifters were few and far between on album three, with Kurt enlisting Steve Albini to make an album that was as raw and abrasive as possible, but there are still moments of light in amongst the shade, mainly in the album's quieter moments.
Album closer All Apologies is as close as Nirvana gets to a ballad, with a gentle nursery-rhyme esque ascending and descending riff forming the beating heart of this plaintive song about isolation and vulnerability.
There's still plenty of Nirvana's usual grit and dirt, but perhaps the song's best epitaph was given by drummer Dave Grohl who recalled hearing the song for the first time in their shared apartment after Kurt had recorded a demo on a four-track tape recorder.
"I remember hearing it and thinking, 'God, this guy has such a beautiful sense of melody," he said in a 2005 interview with Harp. "I can't believe he's screaming all the time.'"
8. Very Ape (In Utero)
Nirvana are punk and hardcore kids at heart and Very Ape (along with the even more rudimentary Tourette's) are the moments on In Utero where the band get to cut loose and have a little fast fun.
There's something hypnotic about the way Kurt slides up to the chords on the main riff, an undulating trip that's enhanced by Pat Smear's siren-like counter-melody. Despite claiming to not know what the song was about, thematically, the song is, according to Kurt "an attack on men" specifically the sort of overcompensating machismo that had been a key plank of the guitar culture that had come before grunge.
The Very Ape riff was clearly worming itself into Liam Howlett's brain, however, as the Prodigy sampled it for their track Voodoo People in 1994.
7. Lithium (Nevermind)
Lithium was a problem child for Nirvana – the band attempted to record it several times after Kurt wrote it in 1991, including an abortive attempt with Chad Channing on drums that was part of what would have been the band's second LP on Sub Pop. Even during the Nevermind sessions, the band nearly discarded it in frustration at their inability to keep steady time. Endless, Nameless, the cacophonous hidden track on Nevermind was actually a result of a frustrated Cobain launching into it after yet another failed Lithium take – producer Butch Vig kept the tape rolling and found Kurt's visceral rage-filled performance, "Fuckin' scary".
The problem was solved by Grohl simplifying some of his fills and playing to a metronome, and the result is one of Nirvana's more wilfully simple songs – a simple chord sequence in D Major, with the guitar tuned down half a step.
As usual with Kurt's work, there's a dissonant hook in the shape of a B♭ powerchord which you'd normally find in a D minor scale – this adds to the unsettling nature of the seemingly sunny gently strummed intro which of course explodes into the chorus in classic quiet-loud Nevermind style.
 
6. School (Bleach)
Bleach is an awkward record to look back on – on the one hand you can feel the band that Nirvana are capable of becoming at various times on the album, but it was an album that Kurt practically disowned as he felt like he compromised his musical vision to fit in with the sludge-metal sound of label Sub Pop at the time, most notably The Melvins.
It's perhaps because of this pressure to present a more "polished and urbane side", that Bleach features some of the most overtly 'guitar' moments in the Nirvana canon, including a searing riff and bona fide look-at-me guitar solo on School.
Okay, it's not Steve Vai by any stretch, but it's a rare explosion of bends, runs, hammer-ons and pull-offs that, while typically messy and disjointed, is still pretty exhilarating to heard.
5. Mr Moustache (Bleach)
When Kurt says that he felt pressure to conform to the 'grunge' sound on Bleach, this track with its syncopated chug of a main riff and forced gruff delivery is probably what he's thinking of.
It certainly doesn't sound like a Nirvana track as we would come to know it, but there's still plenty of Kurt here – not least the lyrics that take aim at one of his favourite targets: what we would now call toxic masculinity in the shape of macho men with moustaches. It's also a VERY fun and relentless riff that straddles punk, metal and grunge in exhilarating fashion.
4. Aero Zeppelin (Incesticide)
Incesticide was created effectively as a bridging album while fans awaited Nevermind's follow up – a compilation of covers B-sides, alternate takes and unreleased material, of which Aero Zeppelin is one of the latter.
And look, there's something very meta about picking a song that in every way looks to mock bands like Led Zeppelin and Aerosmith as being one of Nirvana's best guitar moments… but look, it's Kurt's fault for being so damn good at classic rock pastiche.
In an early liner note Kurt sums it up thusly, "Christ!? Yeah, let's just throw together some heavy metal riffs in no particular order and give it a quirky name in homage to a couple of our favourite masturbatory 70's rock acts," and it is that, but with its unfocussed but grabby melange of riffs, it's a glimpse of what the band would become down the line.
3. In Bloom (Nevermind)
We said that Kurt didn't really do guitar solos, but here he is, doing one right here in the middle of his band's magnum opus – and what a fun solo it is too. If you want a lesson in how to use the dissonance of atonal bends to create a glorious wash of compelling noise, this is it.
In Bloom apparently started out as a much faster and more aggressive track in a Bad Brains style, before Cobain reworked it into its slower and more familiar form at home.
As with many songs on Nevermind, it makes stunning use of dynamics with the gentle verses complete with chorus'd guitar chords giving way into some of the album's most brutal and devastating loud moments. It's not just an effect either – the verses are recorded using a Mesa/Boogie amp for ultimate clean-ness, while the chorus is Kurt tearing into a cranked Fender Bassman. Huge.
2. Come As You Are
The song that sold countless chorus pedals, Come As You Are might be Nirvana's most impactful and enduring effects moment, with Kurt's Electro-Harmonix Small Clone adding a woozy, disjointed feeling to the whole track but particularly that iconic intro riff.
Ah yes, that riff – if Teen Spirit was the first Nirvana song you learned to play on guitar, Come As You Are was probably the second. That intro riff is as timeless as it is catchy – though Killing Joke would probably say it was too catchy. The English post-punkers have a fair case that Kurt borrowed a little too liberally from their track Eighties for the riff, but Dave Grohl at least paid them back by playing drums on their self-titled comeback album in 2003.
All that chorus'd riffing and then one of Kurt's most singable and catchy solos to boot – no wonder it was the album's second single.
1. Aneurysm (Incesticide)
Crazy time changes, mind-bending syncopation and brain melting guitar solos, Aneurysm displays Nirvana's ability to throw everything at the wall and come out with something that, if certainly not pop music, then somehow still catchy and infectious.
What's really remarkable is that for millions, Aneurysm was their second taste of Nirvana after Teen Spirit – the song acting as the B-side to that platinum-selling breakthrough single. Imagine the possibilities a band capable of such wild contrast must have seemed capable of in 1991?
The Incesticide version differs from the single version in that it was actually recorded later, at a session at the BBC's Maida Vale studios and was included with the express intent of alienating the trend-following fans who might consider Nirvana 'pop' music in the music basic sense – this was raw, challenging, and brutal. It was Nirvana how Kurt wanted them to be portrayed.
The post Nirvana's 10 greatest guitar moments, ranked appeared first on Guitar.com | All Things Guitar.
Source: www.guitar-bass.net