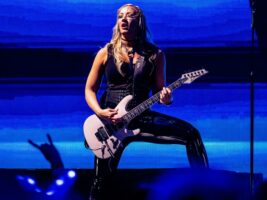 Nita Strauss recalls being told to "show more skin" when starting out as a guitarist
Nita Strauss has opened up about the advice she was given in her early career – stating that she felt pressured to amplify her sexuality to be taken seriously.
READ MORE: Mark Tremonti on turning down offer to try out for Pantera reboot: "It's not just about the playing"
The guitarist was speaking with as part of Knotfest's She's With The Band segment – a project made to amplify the voices of female musicians in the community – when she opened up about her experiences.
"Early in my career, I got a lot of really bad advice," she said.
"I had so many people telling me what I needed to do in order to be successful in this industry… people saying: 'You need to show more skin' [and] 'If you have a boyfriend, you can't say that you're dating anybody because you need to appear available', all this kind of stuff."
Progressing, the guitarist admitted that this pressure to exaggerate her sexuality ultimately led to her changing her appearance. However, this was done in a way to draw as little attention as possible, she says.
"I started really dressing down. I dyed my hair darker … to stand out less. I'd wear a men's large t-shirt onstage and baggy cargo shorts and started touring with heavier bands," she explained.
"[But] I kept getting pulled back and forth through this dichotomy of 'No, you have to be the sex symbol.'"
Concluding the conversation, Strauss, who performed with Alice Cooper since 2014 and is currently touring with Demi Lovato, said that she no longer lets the remarks affect her.
Reflecting on her career so far and offering words of advice to her younger self she said:
"Once I just started embracing who I actually am as a person, that's when great opportunities and great successes started coming to me. [… So] stop trying to fit into what other people tell you you should be, and just be who you are."
The post Nita Strauss recalls being told to "show more skin" when starting out as a guitarist appeared first on Guitar.com | All Things Guitar.
Source: www.guitar-bass.net