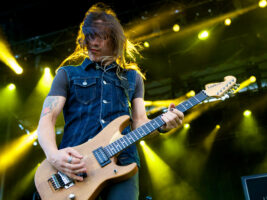 Nuno Bettencourt on More Than Words: "We are proud of the damn song"
Never let it be said that Nuno Bettencourt of Extreme isn't proud of the band's 1991 hit More Than Words.
READ MORE: Flea to launch podcast all about early musical memories
In a recent Shred Talk with Dragonforce's Herman Li, Bettencourt discussed the legacy of Extreme's Number One hit, and his thoughts on interviewers who ask if the song was a blessing or a curse.
"You know people ask that crazy question all the time," the guitarist said. "I always think it's a dumb question but I understand. They say 'was More Than Words a blessing or a curse?' Meaning you're a rock band and it was a big song for you that broke you in the US and people say it wasn't who you are what you do and I'm like you're absolutely wrong."
"It is who we are and what we do because we wrote the damn song and we're proud of the damn song," Bettencourt said. "We've been playing it forever and we're blessed that it went and broke down a lot of walls and doors for us and turned a lot of people on to Extreme."
He added that being one of the composers of a song that had "touched many people" worldwide certainly didn't hurt his chances out in the world and that it'd ultimately landed him where he is today – in this interview with Li and not where "I'm working at Burger King and you never call me".
And despite the song's popularity, Bettencourt shared that the band actually struggled to get the song on radio in the late 80s, a time where rock bands and ballads (of this particular variety) were an unlikely combo.
"Nobody did a ballad without it being a power ballad," the musician said. "It was big snares and cannons and it was amazing, those are the productions back then."
"For us [in] '89 and '90 to do a song sitting on a couple of stools folk song-ish… that probably hadn't been done since the 70s. Really if you think about it, James Taylor and those bands — it was like an Everly Brothers track."
The post Nuno Bettencourt on More Than Words: "We are proud of the damn song" appeared first on Guitar.com | All Things Guitar.
Source: www.guitar-bass.net