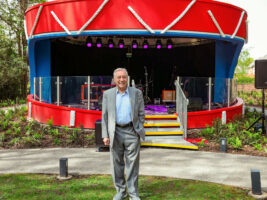 Orange Amps CEO donates bandstand to Liverpool's Strawberry Field garden
Cliff Cooper, CEO of Orange Amplification, has donated a state-of-the-art bandstand to Liverpool's Strawberry Field garden.
READ MORE: Orange Rockerverb 50 MkIII Neo 2×12 review: lighter amp, heavy tones
The garden has been owned by the Salvation Army since the 1930s, and now acts as a centre where people can join the organisation's Steps to Work programme. A press release from Orange notes that the organisation is close to Cooper's heart, as it gave his late father help finding work upon his return from the first world war.
The bandstand's exterior design is based on that of the drum featured on Peter Blake and Jann Haworth's iconic album cover for Sgt. Pepper. The interior is decorated with artwork by Paintpop artist James Wilkinson, as well as a flor mosaic reminiscent of the John Lennon Imagine memorial laid in Strawberry Fields, Central Park, New York.
It's not just visually impressive, though – Orange claims that it is one of "the most technologically advanced bandstands in the world", featuring digital lighting and sound control with facilities for broadcasting, multi-track recording and internet streaming. Using Bluetooth technology, visitors can enjoy performances via wireless headphones.
Having donated the bandstand, Cooper attended its official opening of on 2 May along with Vice Lord Lieutenant of Merseyside, Robert Owen, High Sheriff of Merseyside, Dr Ruth Hussey, the Lord Mayor of Liverpool cllr Roy Gladden, Julia Baird, John Lennon's sister and Major David Taylor, the Salvation Army's divisional leader for the North West.
You can find out more about the venue over at orangeamps.com.
The post Orange Amps CEO donates bandstand to Liverpool's Strawberry Field garden appeared first on Guitar.com | All Things Guitar.
Source: www.guitar-bass.net