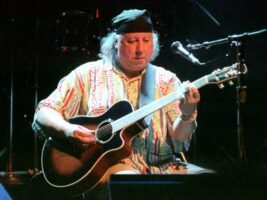 Over 150 of Peter Green's guitars to feature at upcoming auction
A vast collection of Peter Green's guitars, pedals and handwritten notes are set to hit the auction block later this year – and starting prices are more affordable than you'd expect.
READ MORE: Wilco team up with Reverb to sell instruments from their famous Chicago studio
The event will be held by the British auctioneer Bonhams and will take place between 16-28 June.
For now, only a handful of guitars from Fleetwood Mac member have been revealed. These include a Gretsch White Falcon 6137 and a 1999 Fender Custom Shop Stratocaster in a Sea Foam Green finish. These are currently valued at £8,000 and £6,000 respectively.
An instrument regarded as Green's own "comeback guitar" will also be on offer – a 1995 Gibson Howard Roberts Fusion III, which he used during his Splinter Group era. This is currently valued at £5,000.
Other confirmed instruments include a 20th Anniversary Squier Stratocaster used in the Canvey Island Sessions, a National Duolian Style-O resonator from 1931 (seen below), and a G&L SC3 Strat, which dates back to the 1980s.
Image: Bonham Auctioneers
A full list will be announced at a later date.
Other items going to auction include a range of the guitarist's amplifiers, pedals, personal sketches and handwritten lyrics.
The most impressive of which is the rare set of lyrics from Fleetwood Mac's Man of the World, handwritten by Green. This is estimated to sell for between £40,000 and £60,000.
Discussing the event in a new statement, Bonham's Katherine Schofield said:
"Peter Green was one of the greatest guitarists. Even when out of the limelight, the tributes paid to his playing throughout his lifetime continued to highlight his reputation and the esteem his fellow artists held him in."
"This sale is a celebration of his love for the guitar […] With estimates starting at the accessible price point of £150, this is a unique opportunity to own a piece of Peter Green's legacy."
The auction will take place on Bonham's website between 16 and 28 June. Before the auction, some of the guitars will be displayed at the Guitar Show in Birmingham this weekend (25-26 February).
The post Over 150 of Peter Green's guitars to feature at upcoming auction appeared first on Guitar.com | All Things Guitar.
Source: www.guitar-bass.net