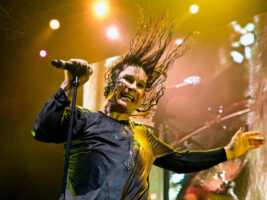 Ozzy Osbourne will perform at this year's "Power Trip" festival
Ozzy Osbourne is confirmed to be playing at this year's Power Trip Festival, despite cancelling upcoming tour dates due to declining health.
READ MORE: Marshall Amplification is being acquired by Zound, maker of Marshall-licensed Bluetooth speakers
Yesterday (29 March), Osbourne's wife Sharon Osbourne appeared as a guest on Piers Morgan Uncensored, and shared how Ozzy was feeling, before revealing that he would be gracing the stage once again.
"He's good. He's doing so much better. I think I told you about it the other night, but now it's been announced; we can talk about it. He's doing a show October 6th in America. It's at the Coachella site. It's gonna be a great show: Guns N' Roses, Metallica, AC/DC, Ozzy…"
"He never stopped. He's back," she confirmed.
You can watch the full interview snippet below:
"He never stopped. He's back."
Sharon Osbourne tells Piers Morgan about her husband Ozzy returning with a new US show.@MrsSOsbourne | @OzzyOsbourne | @piersmorgan | @TalkTV | #PMU pic.twitter.com/WycIVX71uY
— Piers Morgan Uncensored (@PiersUncensored) March 29, 2023
The news comes months after Osbourne released a statement saying that he was retiring from touring after a major accident where he damaged his spine.
He continued by stating that he "never would have imagined that my touring days would have ended this way. My team is currently coming up with ideas for where I will be able to perform without having to travel from city to city and country to country."
Mixed reactions to this announcement caused Osbourne to follow it up with a reminder that he's "fucking not dying", and that he is thinking of other ways to get back on stage.
The full "Power Trip" lineup are expected to be revealed later today. Passes for the festival will go on sale next week.
The post Ozzy Osbourne will perform at this year's "Power Trip" festival appeared first on Guitar.com | All Things Guitar.
Source: www.guitar-bass.net