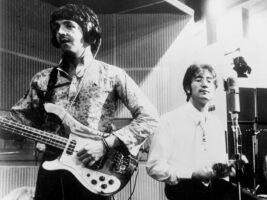 Paul McCartney is using AI to create a "final Beatles record"
Paul McCartney has said that he is using artificial intelligence to help create "the final Beatles record".
READ MORE: Fender partners with My Bloody Valentine's Kevin Shields for his first-ever piece of signature gear
In an interview with BBC Radio 4's Martha Kearney, the musician says that AI has been used to "extricate" Lennon's voice from old audio.
The Beatles' bassist and vocalist says the turning point was during Peter Jackson's Get Back documentary, where the dialogue editor trained the computer to recognise the Beatles' voices, and separate them from background noises.
"We had John's voice and a piano and he could separate them with AI. They tell the machine, 'That's the voice. This is a guitar. Lose the guitar'.
"So when we came to make what will be the last Beatles' record, it was a demo that John had [and] we were able to take John's voice and get it pure through this AI.
"Then we can mix the record, as you would normally do. So it gives you some sort of leeway."
Despite the impressiveness of AI in extracting Lennon's vocals, McCartney admits that other uses for AI are concerning.
"I'm not on the internet that much [but] people will say to me, 'Oh, yeah, there's a track where John's singing one of my songs,' and it's just AI, you know?
"It's kind of scary but exciting, because it's the future. We'll just have to see where that leads."
This is not the first time that McCartney has used this AI technology, as he has previously extracted Lennon's vocals to create a duet during his Glastonbury 2022 performance.
You can watch the incredible moment below:
The post Paul McCartney is using AI to create a "final Beatles record" appeared first on Guitar.com | All Things Guitar.
Source: www.guitar-bass.net