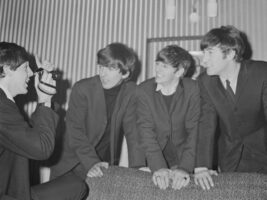 Paul McCartney to unveil previously unseen photographs of early Beatles in London exhibition
Later this year, Paul McCartney will unveil hundreds of newly uncovered photographs of The Beatles during the early days of their career in a London-based exhibition.
READ MORE: Statues of Rolling Stones' Mick Jagger and Keith Richards to be unveiled in Dartford
Entitled Paul McCartney Photographs 1963-1964: Eyes Of The Storm, the collection of images were photographed by the bassist himself, and will be displayed in London's National Portrait Gallery this June.
The recently discovered images were taken between December 1963 and February 1964 and are said to document landmark moments in the band's tenure. These include their iconic appearances on The Ed Sullivan Show and a range of performances held in the USA and UK.
The gallery will also include more personal moments, such as never-before-seen images of the members celebrating George Harrison's twenty-first birthday.
"[McCartney had] found these photographs that he remembers taking but thought had been lost," explained the National Portrait Gallery's director Dr Nicholas Cullinan (via The Guardian).
"We sat down with him and began going through them. [It was] extraordinary to see these images – which are unseen – of such a well-documented, famous, and important cultural moment. They're taken by someone who was really, as the exhibition title alludes, in the eye of the storm, looking outside at what was happening."
A total of 275 photographs were uncovered by the bassist, all of which were taken with a 35mm camera and capture the onset of Beatlemania.
The Paul McCartney Photographs 1963-64: Eyes of The Storm exhibition will initiate in June, and is expected to run until October 2023.
Those unable to visit the gallery during this time can also breathe a sigh of relief as McCartney also plans to publish the photographs in a forthcoming book, expected to be released around the time of his 81st birthday in June.
The post Paul McCartney to unveil previously unseen photographs of early Beatles in London exhibition appeared first on Guitar.com | All Things Guitar.
Source: www.guitar-bass.net