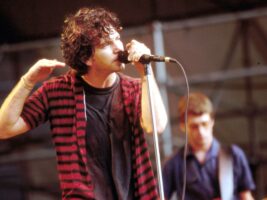 Pearl Jam set to release ultra rare live LP after 25 years
Pearl Jam are set to release their Give Way live LP after a twenty-five-year delay in conjunction with Record Store Day 2023.
READ MORE: Dee Snider doubles down on comments that Robert Plant and Ronnie James Dio were not "great frontmen"
The LP features 17 tracks taken from Pearl Jam's concert in Melbourne, Australia on 5 March 1998, including live recordings of Do The Evolution, Corduroy, Animal, Faithful and more. Originally meant to be given away alongside purchases of the band's Single Video Theory album that same year, 50,000 copies of the LP were destroyed a day before release by label Sony, allegedly due to the promotion not being properly cleared with the label and band.
Several copies still remain in circulation, with one currently being offered on Discogs at $600.
It will finally be released by Legacy Recordings on gatefold black double vinyl and CD this April 22 at "local indie record stores", according to the band's Instagram post announcing the release. Longtime fans will note that the concert the LP is taken from was part of former Pearl Jam drummer Jack Irons' final tour with the band, with Matt Cameron taking over the skins after.
Pearl Jam guitarist Mike McCready turned heads last year when he indulged in the famed rock and roll tradition of destroying his guitar, amp and pedal board on the final stop of the band's European tour on 25 July. While the act itself was not shocking, fans believe that the guitarist destroyed his $15,000 2021 Fender Custom Shop vintage Stratocaster at the show, throwing it at his amp and the backline before smashing his pedalboard with it.
The gig followed a series of cancellations due to singer Eddie Vedder's vocal issues due to the dust and smoke caused by European wildfires last year.
The post Pearl Jam set to release ultra rare live LP after 25 years appeared first on Guitar.com | All Things Guitar.
Source: www.guitar-bass.net