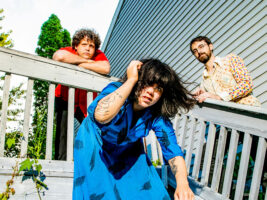 "People have told us that we're doing everything wrong" Melissa Paternoster on why Screaming Females keep ignoring conventional wisdom at every turn
You might have walked along one this morning, stepping from the concrete onto a shortcut made by hundreds or thousands of feet treading grass into mud. They're called a few things, with some names coming from animals who have the same idea, and others springing from jobs or pursuits. Often, they're known as desire paths. "Without speaking to each other, or having a plan, everyone has silently decided that this is the correct way to go, and the way that has been assigned to us is wrong," says Marissa Paternoster, guitarist and vocalist with New Jersey indie-punk lifers Screaming Females.
READ MORE: "Chris learnt 15 songs in two days": In Flames on new album Foregone and hiring ex-Megadeth player Chris Broderick
Their new album, the eighth in a career spanning almost two decades, is named after the phenomenon. Desire Pathway is a thrilling evocation of everything that the band – a gutsy power-trio completed by bassist Mike Abbate and drummer Jarrett Dougherty – is capable of, with sludgy riffs running up against earworm hooks and Paternoster's incendiary leads. Handily, the LP's title also has a double meaning in the context of the group, who remain resolutely DIY and committed to investigating the outer-reaches of their capabilities.
"People have told us that we're doing everything wrong," Paternoster admits. "I wouldn't say that's all the time, it's not a common occurrence, but sometimes we take a rougher road or maybe the road less travelled. We've never had a manager. We've stuck with the same indie label for pretty much the entirety of our career. I think that a lot of bands who are 17 years in would be like, 'What the hell are you doing?' We constantly have discussions about Screaming Females and what our trajectory is but I think there's this unspoken set of rules that we all implicitly understand. We're in this for the long haul, we're not in it to make money or play Coachella or whatever."
Keep It Simply
But if Screaming Females have always understood what they're about from an ethical perspective, then their approach to capturing their music on wax has been a little more scattershot. Desire Pathway is concise in a way that their other records – including 2018's outstanding double LP All at Once – haven't really attempted to be. It simply doesn't stop, rattling through 10 songs in 33 minutes, with several tracks that would have made the grade in the past cut free from the whole and released under-the-radar as an EP called Clover, which was available on CD and cassette from the merch table at shows late last year.
"I think we have always had a hard time trimming records so that they're 10 to 12 tracks," Paternoster says. "That definitely shows in albums like Ugly and All at Once. It's just hard. When you live for a really long time with a certain set of songs, you find something to like about all of them. I feel like by the time it comes down to the last day of mixing in the studio, and we're writing out tracklists, oftentimes we're just like, 'Ach, let's just put them all on there.'"
The reason that this appetite for excess has worked for Screaming Females is that the songs themselves have remained self-contained, ultra-reliable rippers. Paternoster, Abbate and Dougherty are a power-trio content to work within those confines, digging down into fresh melodic ideas rather than adding a bunch of synths because why not add a bunch of synths. During Let Me Into Your Heart, Paternoster plays a patient solo over nothing more than a thudding rhythm section. It's like documentary photography: this is what this band sounds like.
"We had rhythm guitar on some demos, and it sounded great," Paternoster says. "And then when we did it in the studio, we were like, 'That sounds like too much, take it out.' We sat back and listened to it, and we're like, 'Well, at the very least, that's what people are gonna hear when we play.' Nothing could be more true than what we're hearing right now, and it sounds good. If it ain't broke, why fix it?"
Image: Bob Sweeney
London Calling
Desire Pathway reunites Screaming Females with producer Matt Bayles, who has been on board since 2015's Rose Mountain. The LP was tracked at Pachyderm Studios in Cannon Falls, Minnesota, where Nirvana made In Utero and PJ Harvey captured Rid of Me. Having made All at Once out in Seattle at London Bridge Studio and Red Room, they were keen to find something new. They asked Bayles to put together a shortlist: destination studios with impressive discographies that he'd always wanted to work in. "And it was the one that got back in touch with us," Paternoster says with a laugh. Simple as that.
They arrived with songs that were running smoothly. As on Rose Mountain and All at Once, the band and Bayles conducted a meticulous pre-production and demoing process in New Jersey before heading for the Midwest. "This is months before going to the studio," Paternoster says. "When we did show up at Pachyderm to track the record we were hyper prepared. It's nice to have another person on the team who also knows exactly what's going on, and the order of operations in which things will be executed. As much as I would like the studio to be a place where you vibe and get cool ideas and experiment, you're only there for a limited amount of time. The vibing and experimenting in Screaming Females happens before we get to the studio."
That extends to gear. Paternoster packed up her trusted G&L S-500 and, as has increasingly become her MO, kept things relatively straightforward in the studio, as she does on stage. "Usually there are some other guitars that are booping around at the studio that we might experiment with, but I will say that usually whatever guitars are laying around at any studio are pretty dicey when it comes to intonation," she says. "When you're making a record that can drive you pretty insane. I usually default to the G&Ls just because I don't want to deal with having to tune to a D chord all the way up the neck because the intonation is like two cents off or whatever."
Image: Bob Sweeney
"I set up live pretty much the same way," she adds. "I really don't need modulation effects – sometimes I'll throw a phaser in there for leads, because it kind of bumps the signal up a little bit and pierces through. I've had a pretty simple setup for a while now. A lot of it has to do with the fact that I don't want to deal with troubleshooting a broken pedal in the middle of the set, because I'll have a total meltdown. These extraneous pedals, which are fun to experiment with when you're recording or when you're at home just fiddling around, playing live with them was completely impractical for me. I don't have a guitar tech, I'm just one person, and I also don't have a lot of money to service these things all the time. I just have a [Klon] Centaur clone, an OCD, and a delay pedal. Sometimes I'll put the phaser in if I'm feeling spicy."
Paternoster's leads and solos are tiny marvels – skin-peeling blasts of technical mastery slotted into punk songs with minimal fuss. She can pull off this sense of low-key wizardry because Screaming Females is a democracy, with each band member contributing riffs and ideas to their songs, while her own philosophy on playing is melody-focused to the point that her pyrotechnic contributions feel as though they are vital to the success of any given song.
"That's pretty much the only thing I think about when it comes to writing songs or playing guitar: a punchy melody," she says. "I think ABBA talked about how if you can't remember the vocal line or the part that you just wrote right after writing it, then it's garbage. I certainly don't work under that discipline because that's way too hard for me. But it definitely feels like something I can strive towards."
Image: Krista Schlueter
The second song on Desire Pathway out-and-out rager called Desert Train. If we're talking striving towards things, then it feels like a blueprint it's taken Screaming Females almost two decades to perfect. It has an eye-bulging riff, relentless forward drive from the rhythm section, hairpin melodic swerves and a head-turning solo, all delivered in two minutes and 50 seconds. When it's put to Paternoster that they might have written the perfect Screaming Females song she smiles and points to the fact that, after all this time, they know themselves inside out.
"There are a lot of moments when we're writing songs where it feels almost self-referential," she says. "Desert Train was a song that Mike came in with most of the riffs. I remember when we were playing it, I was like, 'Oh, this kind of reminds me of Ripe, which was a song on Rose Mountain. At first listen it was a really masculine, tough, desertrock kind of riff. As it goes through the Screaming Females processor it changes into something else. It's weird to have been a band for this long, because I wouldn't have ever dreamed that there would be a point in my life as a musician where something reminds me of a song that we wrote seven years ago. But it does."
Screaming Females' Desire Pathway is out on 24 February through Don Giovanni.
The post "People have told us that we're doing everything wrong" Melissa Paternoster on why Screaming Females keep ignoring conventional wisdom at every turn appeared first on Guitar.com | All Things Guitar.
Source: www.guitar-bass.net