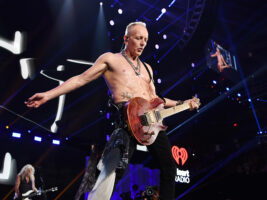 Phil Collen on touring with Mötley Crüe: "It's like being at school with all of your best friends"
Def Leppard guitarist Phil Collen has opened up about co-headlining a tour with Mötley Crüe, the members of which he's known "for years."
READ MORE: Watch: YouTuber redubs Steve Vai's Crossroads duet – "the results are truly cursed"
In a new interview with Radioacktiva Colombia on YouTube, the legendary guitarist discussed what it's like to be playing The World Tour with Def Leppard, co-headlined by Mötley Crüe.
"It's great. We've known 'em for years," he said. "I've known all of 'em since the '80s — early '80s — and we played with them first time in '83. It's great. It's like being at school with all of your best friends. It's really fun."
He continued: "We've got this [shared chartered] airplane [on the tour] that all of us are on there. And it's great. There's two bands that are still around. And I think it means more as you get older.
"There's this thing being young, ta-da-da, but there's something about really doing it still later on that makes you — I don't know — appreciate it more."
The tour is currently performing in Latin America and Europe before it hits the US on 5th August, starting in Syracuse, New York.
Def Leppard is performing in support of its first studio album in seven years, out last year.
The album is called Diamond Star Halos and immediately sold 34,000 copies (equal to 2.7million streams) in the US during its first week of release in May 2022.
It then became No. 10 on the Billboard 200 chart, which was the band's eighth top 10 LP.
Mötley Crüe will also be performing their first live US gigs since founding guitarist Mick Mars left the group in October last year.
He is being replaced by Marilyn Manson guitarist John 5.
You can watch the full Radioacktiva Colombia interview below:
The post Phil Collen on touring with Mötley Crüe: "It's like being at school with all of your best friends" appeared first on Guitar.com | All Things Guitar.
Source: www.guitar-bass.net