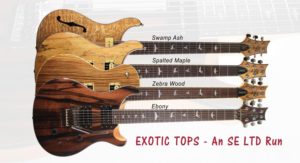 PRS Reveals Exotic Top SE Range
PRS flamed maple tops are renowned the world over, but every now and again we are able to find other tone woods that are just as beautiful in their own way… Introducing the Exotic Tops SE LTD run.
Choose between the beautiful contrasting stripes of Zebra Wood, the random dark wild figure of Ebony, the dramatic patterns of Spalted Maple, or rare Quilted Swamp Ash.
Add in up-grades and features such as Tortoiseshell binding and the Exotic Top SE LTD's are to good to miss.The post PRS Reveals Exotic Top SE Range appeared first on Guitar & Bass.
Source: www.guitar-bass.net