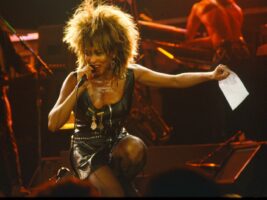 "Queen of Rock 'n' Roll" Tina Turner passes away aged 83
Tina Turner, the legendary singer who rose from humble beginnings to become one of the most influential and successful artists of all time, has died at 83 after a long illness.
The singer hailed as the Queen of Rock 'n' Roll passed away peacefully on Wednesday in her home in Switzerland, according to a statement from her publicist.
Turner was known for her powerful voice, electrifying stage presence and groundbreaking style, having started her career in the 1960s as part of the duo Ike & Tina Turner, delivering hits such as Proud Mary and River Deep, Mountain High. However, the successful partnership was not a blissful one, as Turner endured years of abuse from her husband Ike, whom she divorced in 1976.
View this post on Instagram
A post shared by Tina Turner (@tinaturner)
She reinvented herself as a solo star in the 1980s selling over 200 million records worldwide and winning eight Grammy Awards. She was also inducted into the Rock 'n' Roll Hall of Fame twice, once with Ike and once as a solo artist.
Turner would also go on to have a successful career in film and musical theatre, starring in Mad Max Beyond Thunderdome and Tina: The Tina Turner Musical. Her life story was documented in three memoirs, a biopic starring Angela Bassett, and a documentary film released earlier this year.
Turner had faced several health challenges in recent years, including intestinal cancer, a stroke and kidney failure, undergoing a kidney transplant in 2017 with an organ donated by her husband Erwin Bach.
She is survived by her husband Erwin Bach, her sons Craig and Ronnie, her grandchildren and her great-grandchildren.
Musicians have paid tribute to Turner and her legacy following her passing.
I'm so saddened by the passing of my wonderful friend Tina Turner.She was truly an enormously talented performer and singer. She was inspiring, warm, funny and generous. She helped me so much when I was young and I will never forget her. pic.twitter.com/TkG5VrdxXO
— Mick Jagger (@MickJagger) May 24, 2023
To say "Simply the Best" is an understatement. The queen of talent, perseverance and a role model for women everywhere has left us. We are fortunate that her legacy will live on through her music. Peace to her loved ones. An amazing force. #tinaturner #rip pic.twitter.com/5VOrfiLNWi
— Randy Bachman (@RandysVinylTap) May 24, 2023
RIP Tina Turner. One of our greatest RocknSoul voices, performers, and stories. She lives forever in the Underground Garage.
— Stevie Van Zandt (@StevieVanZandt) May 24, 2023
So deeply sad to hear about Tina Turner's passing… I loved her version of Proud Mary! It was different and fantastic. I was also so happy because she chose my song and it was her breakthrough record. pic.twitter.com/pH1Qt8u25Y
— John Fogerty (@John_Fogerty) May 24, 2023
Thank you Ms Turner. pic.twitter.com/WTcPA7CNQj
— Mark Morton (@MarkDuaneMorton) May 24, 2023
God bless you Tina, the Queen Of Rock And Soul and a dear friend to our family. Love and prayers to all of Tina's family, friends and loved ones #tinaturner @tinaturner pic.twitter.com/BUNBAdsCKl
— Ronnie Wood (@ronniewood) May 24, 2023
 
The post "Queen of Rock 'n' Roll" Tina Turner passes away aged 83 appeared first on Guitar.com | All Things Guitar.
Source: www.guitar-bass.net