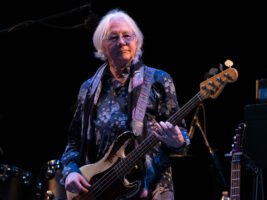 R.E.M. weren't expecting Losing My Religion to be the hit it was, according to Mike Mills
R.E.M. didn't expect Losing My Religion to become their biggest hit, bassist Mike Mills has said in a new interview.
READ MORE: The Genius Of… Out Of Time By R.E.M.
Speaking to Vulture, Mills explains that their label was unsure about the band's desire for Losing My Religion to become the lead single from their 1991 album Out of Time, but trusted their judgment – and it paid off.
However, not even the band members themselves anticipated the success that would follow. The track, based off a mandolin riff, reached number four on the Billboard Hot 100, the band's highest-ever placing, won two Grammys, and gained extensive play on both radio and MTV. Meanwhile, Out of Time topped the album charts across the world, including in the UK and their native US.
Mills says, "That was supposed to be a warm-up track for the radio to get to Shiny Happy People or whatever the next single was," he recalls. "Nobody would expect a five-minute song with no chorus and a mandolin being the lead instrument to be played on the radio at all – much less become a worldwide number-one hit. It was just crazy. Anybody that says they saw that coming is lying to you.
"I remember the strangest time. We were once in Paraguay well into the jungle. We were going to help sign over 500,000 acres to the indigenous Ashe people of northern Paraguay. We were still getting reception from the local radio station and Losing My Religion came on. That was pretty surprising. That's when we knew we had a worldwide hit."
In July, all four members of R.E.M. picked their top ten songs from the band's career, but nobody went for Losing My Religion on their list. However, when some fans at the time complained that the band had grown too big or too commercial, guitarist Peter Buck told Rolling Stone, "The people that changed their minds because of Losing My Religion can just kiss my ass".
The post R.E.M. weren't expecting Losing My Religion to be the hit it was, according to Mike Mills appeared first on Guitar.com | All Things Guitar.
Source: www.guitar-bass.net