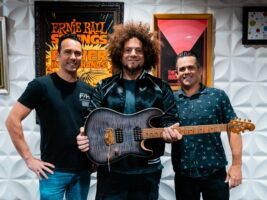 Rabea Massaad is now an Ernie Ball Music Man artist, working on all-new guitar
Ernie Ball has announced guitarist, producer and YouTuber Rabea Massaad as a new addition to its growing Ernie Ball and Ernie Ball Music Man artist roster.
READ MORE: NAMM 2023: Biggest guitar, pedal and amp announcements
Massaad will develop electric guitar models with Ernie Ball, with the brand announcing through an Instagram statement that "Rabea is currently working on a new Ernie Ball Music Man Artist Series guitar design that will be based on the Sabre guitar. The instrument will incorporate unique designs that are specifically engineered for Rabea's playing style."
View this post on Instagram
A post shared by Ernie Ball Music Man (@music_man)
In a statement shared with Guitar World, Massaad said of the new partnership: "To be a part of the Ernie Ball Music Man family is something I never thought I'd be able to say. Being on the back of the pack alongside so many musicians I've looked up to since I started out and having a Music Man guitar with my name on it is truly a pinch myself feeling I don't think will ever pass."
Ernie Ball previously tapped Animals as Leaders' Tosin Abasi to collaborate on the seven-string Kaizen guitar that was announced at NAMM 2022. Abasi described the Kaizen design as providing both affirmative string tension on the bass strings while simultaneously delivering a traditional feel on the treble strings, saying, "I'm inspired by pushing the design of this instrument further. I think this was an opportunity to do that and it doesn't take away from anything, it just simply adds to the tools available to guitar players."
The post Rabea Massaad is now an Ernie Ball Music Man artist, working on all-new guitar appeared first on Guitar.com | All Things Guitar.
Source: www.guitar-bass.net